Necessary Fictions
Course Code: 21WCEPV0089
Dates: March 6-28, 2021
Meets: Sa and Su from 10:00 AM to 2:00 PM
Location: Online Zoom Classroom
Winter Tuition: $455
In a world of deepfakes and "fake news," the role of images in telling true stories is increasingly in question. What strategies are available to visual imagemakers addressing real-world issues? How may fictions be used in narrative storytelling? In this online course we investigate the many ways fictions can illuminate the truth, visually. Students will be introduced to examples in still photography, film, and other visual media, and explore how to integrate these methods into their own practice, whether in a documentary or fine-art context. We look critically at the work of photographer Jennifer Karady, artist Alexandra Bell, performance artist Dread Scott, filmmakers Omer Fast and Yael Bartana, as well as Debi Cornwall's own multimedia projects, among many others.
Prerequisite: Advanced: You are comfortable with your camera, whether film or digital, and with your photographic practice. You have already produced or are working on a body of work. You are proficient in Adobe applications such as Photoshop, Lightroom, Premiere, et cetera. You understand printing or portfolio revision processes. You may be seeking ways to strengthen your work through sequencing, theoretical readings, and group critiques.
Note: All camera formats are welcome.
Courses are subject to minimum enrollment. Please register early, within five days of the start-date, to reduce the likelihood of course cancellation and to ensure you receive all course-related materials in time to prepare for class.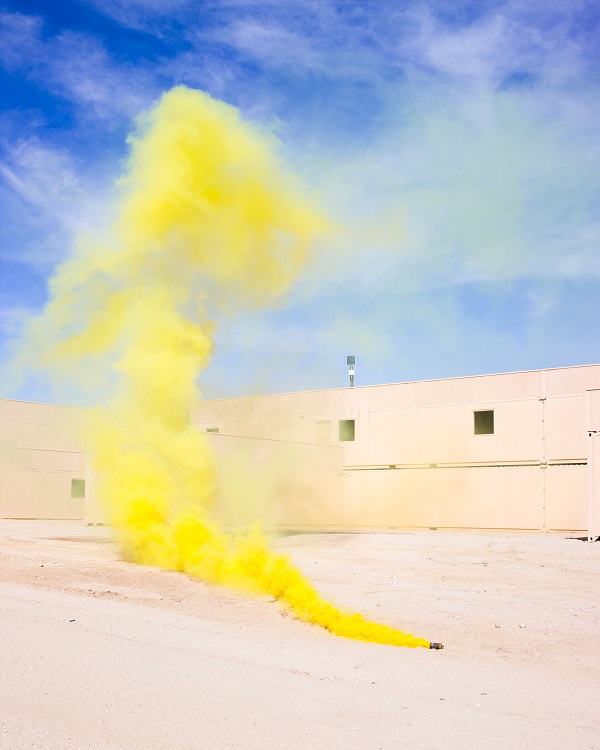 Image: Debi Cornwall, Smoke Bomb
Fee Breakdown
| Category | Description | Amount |
| --- | --- | --- |
| Course Fee (Basic) | Winter Tuition | $ 435.00 |
| Mandatory Fee | Material Fee | $ 20.00 |
| Date | Day | Time | Location |
| --- | --- | --- | --- |
| 03/06/2021 | Saturday | 10 AM to 2 PM | Online Zoom Classroom |
| 03/07/2021 | Sunday | 10 AM to 2 PM | Online Zoom Classroom |
| 03/27/2021 | Saturday | 10 AM to 2 PM | Online Zoom Classroom |
| 03/28/2021 | Sunday | 10 AM to 2 PM | Online Zoom Classroom |
Please be prepared to share 12-20 still images / 5-10 minutes of moving images on the first day to introduce yourself and your work to the class.