Seeing Pink: The Queer Perspective in Photography
Course Code: 23SCEPV323
Dates: January 25 - February 22, 2023
Meets: W from 6:30 PM to 9:30 PM ET
Location: Online Zoom Classroom
Course Tuition: $525
Sorry, we are no longer accepting registrations for this course. Please contact our office to find out if it will be rescheduled, or if alternative classes are available.
This workshop challenges students to approach their imagemaking with an LGBTQ-oriented theme in mind. Topics include, but are not limited to, interior emotional content, upheaval and personal events, gender identity, politics, and desire-all as they relate to our queer lives. The class is composed of critiques, slide presentations (of both renowned and lesser-known photographic artists), lectures, discussions, individual meetings, and visits from LGBTQ artists. Participants are expected to develop a critical dialogue to support their work as well as refine their skills and engage in discussion with others. One class session is devoted to one-on-one meetings with each student.
Course Level / Prerequisite: Intermediate: You are familiar with a camera, whether film or digital. You understand aperture, shutter speed, exposure, white balance, histograms, and how to control focus. You are comfortable editing and processing your images. You may want to learn how to utilize your camera in a more thoughtful and articulate way, or learn more about lighting or how to utilize theoretical concepts in relation to your portfolio of work.
Courses are subject to minimum enrollment. Please register early, within five days of the start-date, to reduce the likelihood of course cancellation and to ensure you receive all course-related materials in time to prepare for class.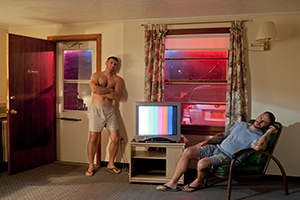 Image: Richard Renaldi, Hotel Room Portrait, Ashtabula, OH, 2012
Fee Breakdown
| Category | Description | Amount |
| --- | --- | --- |
| Course Fee (Basic) | Course Tuition | $ 485.00 |
| Mandatory Fee | Material Fee | $ 40.00 |
| Date | Day | Time | Location |
| --- | --- | --- | --- |
| 01/25/2023 | Wednesday | 6:30 PM to 9:30 PM | Online Zoom Classroom |
| 02/01/2023 | Wednesday | 6:30 PM to 9:30 PM | Online Zoom Classroom |
| 02/08/2023 | Wednesday | 6:30 PM to 9:30 PM | Online Zoom Classroom |
| 02/15/2023 | Wednesday | 6:30 PM to 9:30 PM | Online Zoom Classroom |
| 02/22/2023 | Wednesday | 6:30 PM to 9:30 PM | Online Zoom Classroom |
Two assignments due for the first day of class #1 Retrospective Students create a 10-15 picture retrospective of prints or Jpegs from their entire career as an image maker.Your image choices should attempt to represent your photographic/artistic approach to the medium. The portfolio can be from specific projects or a range of work. #2 Self-Portraiture: One Figurative Self Portrait (or a series) and One Non-Figurative Self Portrait These must be NEW images created for this class. With the self-portrait try to imbue it/them with feeling and perhaps even a projection of the queer part of your identity. The non-figurative self portrait should be more enigmatic. An object, place, abstraction, or anything that feels like a manifestation of your self.