Chemigrams: Experimental Photography without a Darkroom or Camera
Course Code: 23SCEAP000
Dates: February 18, 2023
Meets: Sa from 10:00 AM to 5:00 PM ET
Location: ICP (84 Ludlow Street)
Course Tuition: $335
After a brief look at the physics of gelatin silver emulsion and a review of black-and-white darkroom procedures, students learn how to subvert these classic methods and, by adding new twists, derive color prints from black-and-white materials-the tradition of the chemigram. In this workshop, participants explore how simple maneuvers can give rise to incredibly complex and powerful images. The class is open to anyone who wants to create images, rather than capture them. An artistic inclination is a plus.
Course Level / Prerequisite: Open to all skill levels. Students ranging from beginner to experienced will be successful in classes that are Open to All Skill Levels.
In accordance with ICP's COVID-19 Safety Guidelines and Policies, all Continuing Education students are required to be fully vaccinated in order to attend onsite courses. This includes courses taking place at the ICP School location (79 Essex Street - entrance at 84 Ludlow Street) as well as offsite locations. Students will be required to provide proof of their vaccination status during the registration process, unless an exemption has been granted. Masks are strongly recommended, but not required in class and in other public areas of ICP to protect the health and safety of all employees, students and visitors. These policies are subject to change at anytime.
Courses are subject to minimum enrollment. Please register early, within five days of the start-date, to reduce the likelihood of course cancellation and to ensure you receive all course-related materials in time to prepare for class. In order to comply with ICP's COVID-19 Safety Guidelines and Policies, registration for this course will close two days prior to the start date of the course.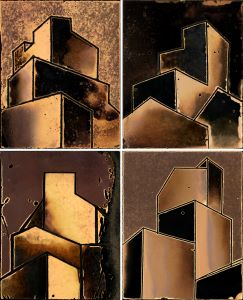 Image: Eva Nikolova. "Untitled I from Failed Geometries," 2016, Chemigram
Fee Breakdown
| Category | Description | Amount |
| --- | --- | --- |
| Course Fee (Basic) | Course Tuition | $ 320.00 |
| Mandatory Fee | Material Fee | $ 15.00 |
Please bring the following with you: 1. Photographic paper - RC 25 sheets 5x7 inches (available at B&H and Adorama) 2. X-acto or pen knife 3. Sharpie marker 4. Brushes (small and cheap, two or three) 5. nitrile gloves 6. Notebook and pen to take notes