Photoshop II
Course Code: 22WCEPS112
Dates: January 24 - April 4, 2022
Meets: M from 2:00 PM to 5:00 PM ET
Location: ICP (84 Ludlow Street)
Winter Tuition: $935
Students delve deeply into the potential of Photoshop and its tools, learning more sophisticated methods to refine their digital images. This includes advanced selection and masking techniques for adjustment layers, retouching, and an introduction to composite image making. Working from film scans and creating fine prints will also be discussed. This course is recommended for photographers confident with digital input, overall adjustment, and output in Photoshop.
Course Level / Prerequisite: Intermediate Photoshop: You are familiar with the use of Photoshop. You understand working with layers, camera raw conversion, and color and tonal adjustments. You may be interested in developing experience with local adjustments, blending modes and more advanced tonal and color adjustment techniques.
In accordance with ICP's COVID-19 Safety Guidelines and Policies, all Continuing Education students are required to be fully vaccinated and to have received the most recently available booster shots in order to attend onsite courses. This includes courses taking place at the ICP School location (79 Essex Street - entrance at 84 Ludlow Street) as well as offsite locations. Students will be required to provide proof of their vaccination status during the registration process, unless an exemption has been granted. ICP requires masks to be worn while in class, and while in other public areas of ICP, to protect the health and safety of all employees, students, and visitors. We encourage students, faculty, and staff to wear a KN95 and/or KF94 mask at ICP.
Courses are subject to minimum enrollment. In order to comply with ICP's COVID-19 Safety Guidelines and Policies, registration for this course will close two days prior to the start date of the course.
Students attending in-person courses will be required to complete ICP's online Daily Health Screening prior to entering the ICP school.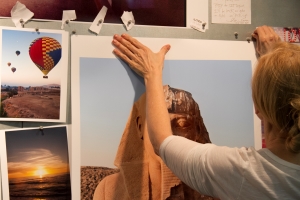 Fee Breakdown
| Category | Description | Amount |
| --- | --- | --- |
| Course Fee (Basic) | Winter Tuition | $ 895.00 |
| Mandatory Fee | Material Fee | $ 40.00 |
| Date | Day | Time | Location |
| --- | --- | --- | --- |
| 01/24/2022 | Monday | 2 PM to 5 PM | ICP (84 Ludlow Street) |
| 01/31/2022 | Monday | 2 PM to 5 PM | ICP (84 Ludlow Street) |
| 02/07/2022 | Monday | 2 PM to 5 PM | ICP (84 Ludlow Street) |
| 02/14/2022 | Monday | 2 PM to 5 PM | ICP (84 Ludlow Street) |
| 02/28/2022 | Monday | 2 PM to 5 PM | ICP (84 Ludlow Street) |
| 03/07/2022 | Monday | 2 PM to 5 PM | ICP (84 Ludlow Street) |
| 03/14/2022 | Monday | 2 PM to 5 PM | ICP (84 Ludlow Street) |
| 03/21/2022 | Monday | 2 PM to 5 PM | ICP (84 Ludlow Street) |
| 03/28/2022 | Monday | 2 PM to 5 PM | ICP (84 Ludlow Street) |
| 04/04/2022 | Monday | 2 PM to 5 PM | ICP (84 Ludlow Street) |