Foundations in Photoshop
Course Code: 22WCEPS004
Dates: February 3 - March 24, 2022
Meets: Th from 2:00 PM to 5:00 PM ET
Location: Online Zoom Classroom
Winter Tuition: $580
This introductory course covers the basics of Photoshop. Students will learn an efficient photographic workflow and develop a clear understanding of layers, color correction, making local adjustments using layer masks, the use of selection tools, and basic retouching in this online class. During the course, we'll go step by step through the various stages of image refinement. We will cover Photoshop's relationship to Lightroom and the place of each program in the digital workflow. Homework with practice files will be assigned to reinforce class lectures.
Course Level / Prerequisite: Open to all skill levels. Students ranging from beginner to experienced will be successful in classes that are Open to All Skill Levels.
Note: Basic computer experience is needed; familiarity with Lightroom is recommended. Students will need to purchase or have Adobe Photoshop for this course. More information for students will be provided before the first session.
Courses are subject to minimum enrollment. Please register early, within five days of the start-date, to reduce the likelihood of course cancellation and to ensure you receive all course-related materials in time to prepare for class.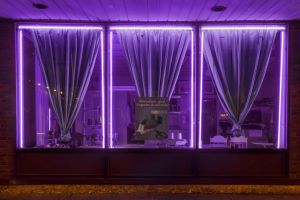 Image: Kathleen Anderson
| Date | Day | Time | Location |
| --- | --- | --- | --- |
| 02/03/2022 | Thursday | 2 PM to 5 PM | Online Zoom Classroom |
| 02/10/2022 | Thursday | 2 PM to 5 PM | Online Zoom Classroom |
| 02/17/2022 | Thursday | 2 PM to 5 PM | Online Zoom Classroom |
| 02/24/2022 | Thursday | 2 PM to 5 PM | Online Zoom Classroom |
| 03/03/2022 | Thursday | 2 PM to 5 PM | Online Zoom Classroom |
| 03/10/2022 | Thursday | 2 PM to 5 PM | Online Zoom Classroom |
| 03/17/2022 | Thursday | 2 PM to 5 PM | Online Zoom Classroom |
| 03/24/2022 | Thursday | 2 PM to 5 PM | Online Zoom Classroom |