Reflecting: Photography in the Mirror
Course Code: 22MCEPV00042
Dates: July 16-20, 2022
Meets: Sa from 10:00 AM to 5:00 PM and W from 6:30 PM to 8:30 PM ET
Location: In-Person and Online Zoom
Course Tuition: $260
This workshop invites students to re-imagine and blur the lines of still-life, landscape and portraiture. By working with mirrors, students create an intentional interruption of a landscape with a physical object. They learn to slow down and make two photographs in one; the image in the mirror, and its surrounding image. This workshop is hands-on, with class participants spending the majority of the time photographing with mirrors of different sizes and shapes. Demonstrations and exercises will encourage students to experiment and consider the concept of reflection both visually and thematically. The class will be held in Prospect Park with a follow up meeting on zoom.
Note: This class meets on location on 7/16 from 10 AM - 5 PM and on zoom on 7/20 from 6:30-8:30 PM.
Course Level / Prerequisite: Open to all skill levels. Students ranging from beginner to experienced will be successful in classes that are Open to All Skill Levels.
In accordance with ICP's COVID-19 Safety Guidelines and Policies, all Continuing Education students are required to be fully vaccinated and to have received the most recently available booster shots in order to attend onsite courses. This includes courses taking place at the ICP School location (79 Essex Street - entrance at 84 Ludlow Street) as well as offsite locations. Students will be required to provide proof of their vaccination status during the registration process, unless an exemption has been granted. ICP requires masks to be worn while in class, and while in other public areas of ICP, to protect the health and safety of all employees, students, and visitors. We encourage students, faculty, and staff to wear a KN95 and/or KF94 mask at ICP. These policies are subject to change at anytime.
Courses are subject to minimum enrollment. In order to comply with ICP's COVID-19 Safety Guidelines and Policies, registration for this course will close two days prior to the start date of the course.
Students attending in-person courses will be required to complete ICP's online Daily Health Screening prior to entering the ICP school.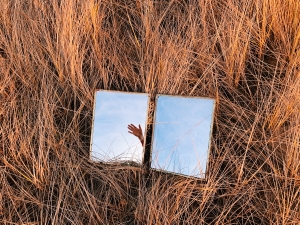 Image: Erica Reade, Untitled, Fort Tilden Park, 2021
In-Person and Online Zoom
| Date | Day | Time | Location |
| --- | --- | --- | --- |
| 07/16/2022 | Saturday | 10 AM to 5 PM | In-Person (Walking Class) |
| 07/20/2022 | Wednesday | 6:30 PM to 8:30 PM | Online Zoom Classroom |
Students are encouraged to bring a mirror to photograph with, as well as personal household object or prop to use in the photos (ex. bouquet of flowers, fruit, clothing), and be prepared to photograph themselves in a self-portrait style.