How to Talk the Talk: Creating Your Brand and Communicating About Your Work
Course Code: 21FCEMA015
Dates: December 3-10, 2021
Meets: F from 11:00 AM to 5:00 PM ET
Location: Online Zoom Classroom
Fall Tuition: $395
Geared towards the photographer with a growing body of work, this two-day workshop drills down to each photographer's own branding materials. We analyze your communication tools, both written and verbal, to help get your images seen as well as improve your story-telling techniques. On Day #1, the instructor provides an overview of the marketplace and the considerations that go into building a collection. Topics include the pricing, editions, dates, condition and how those collector considerations impact working photographers today. We also discuss branding 'dos and don'ts' along with portfolio review best practices. On Day #2, for peer critique, students present their business cards, websites, and a 5-minute 'elevator speech' while showing their work.
Note: This class meets on two consecutive Fridays, December 3 and December 10.
Course Level / Prerequisite: Open to all skill levels. Students ranging from beginner to experienced will be successful in classes that are Open to All Skill Levels.
Courses are subject to minimum enrollment. Please register early, within five days of the start-date, to reduce the likelihood of course cancellation and to ensure you receive all course-related materials in time to prepare for class.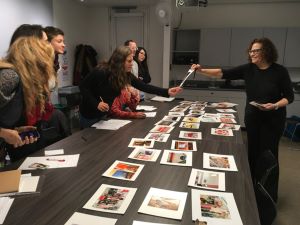 Image: Alice Zimet
| Date | Day | Time | Location |
| --- | --- | --- | --- |
| 12/03/2021 | Friday | 11 AM to 5 PM | Online Zoom Classroom |
| 12/10/2021 | Friday | 11 AM to 5 PM | Online Zoom Classroom |
Students will be provided with a briefing memo prior to the start of class that outlines the necessary presentation material.