Queer Self Portraiture
Course Code: 22WCEPV00036
Dates: February 28 - March 28, 2022
Meets: M from 2:00 PM to 5:00 PM ET
Location: ICP (84 Ludlow Street)
Winter Tuition: $520
This course studies the history of queer photographic self portraiture and guides students in experimenting with a series of photo assignments in imaging ourselves. The class discusses issues around queer representation and visibility and how they are altered by the image-maker as subject. Students make photographs using different techniques such as photographic collage, combining images with text, and digital manipulation. Many artists will be discussed, including Claude Cahun, Martine Gutierrez, Zaneli Muholi, Laura Aguilar, Tseng Kwong Chi. This course is for anyone curious about the possibilities in photographing themselves and the history of queer image makers that came before them.
Course Level / Prerequisite: Open to all skill levels. Students ranging from beginner to experienced will be successful in classes that are Open to All Skill Levels.
In accordance with ICP's COVID-19 Safety Guidelines and Policies, all Continuing Education students are required to be fully vaccinated and to have received the most recently available booster shots in order to attend onsite courses. This includes courses taking place at the ICP School location (79 Essex Street - entrance at 84 Ludlow Street) as well as offsite locations. Students will be required to provide proof of their vaccination status during the registration process, unless an exemption has been granted. ICP requires masks to be worn while in class, and while in other public areas of ICP, to protect the health and safety of all employees, students, and visitors. We encourage students, faculty, and staff to wear a KN95 and/or KF94 mask at ICP.
Courses are subject to minimum enrollment. In order to comply with ICP's COVID-19 Safety Guidelines and Policies, registration for this course will close two days prior to the start date of the course.
Students attending in-person courses will be required to complete ICP's online Daily Health Screening prior to entering the ICP school.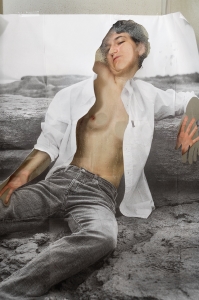 Image: Perri Hofmann, Jeans and a white button down, from Like Father Like, 2021
Fee Breakdown
| Category | Description | Amount |
| --- | --- | --- |
| Course Fee (Basic) | Winter Tuition | $ 480.00 |
| Mandatory Fee | Material Fee | $ 40.00 |
| Date | Day | Time | Location |
| --- | --- | --- | --- |
| 02/28/2022 | Monday | 2 PM to 5 PM | ICP (84 Ludlow Street) |
| 03/07/2022 | Monday | 2 PM to 5 PM | ICP (84 Ludlow Street) |
| 03/14/2022 | Monday | 2 PM to 5 PM | ICP (84 Ludlow Street) |
| 03/21/2022 | Monday | 2 PM to 5 PM | ICP (84 Ludlow Street) |
| 03/28/2022 | Monday | 2 PM to 5 PM | ICP (84 Ludlow Street) |