Creating with Intention
Course Code: 22WCEPV00019
Dates: February 16 - March 30, 2022
Meets: W from 2:00 PM to 5:00 PM ET
Location: Online Zoom Classroom
Winter Tuition: $610
Sorry, we are no longer accepting registrations for this course. Please contact our office to find out if it will be rescheduled, or if alternative classes are available.
Today's fine art photography market asks for more than beautiful, well-crafted images. Curators, gallerists and editors are looking for work created with intention and/or work focused around an idea or concept. In addition; they are looking for photographers who can not only articulate their images and projects, but reinterpret the world with intelligence and thoughtful analysis, whether it be work made close to home or in regions undiscovered. Join Aline Smithson for a workshop designed to help photographers create focused projects and the articulation that surrounds the work. Participants will be exposed to genres of contemporary photography, projects created around ideas, and projects that tell personal stories. Aline will offer exercises so that students can identify a personal vision or a subject worth exploring, providing a tool belt of idea to create work. Ultimately, the workshop will inspire participants to reconsider how they make work, how they interpret their lives and their world, and by bringing depth and meaning to their efforts.
Course Level / Prerequisite: Open to all skill levels. Students ranging from beginner to experienced will be successful in classes that are Open to All Skill Levels.
Courses are subject to minimum enrollment. Please register early, within five days of the start-date, to reduce the likelihood of course cancellation and to ensure you receive all course-related materials in time to prepare for class.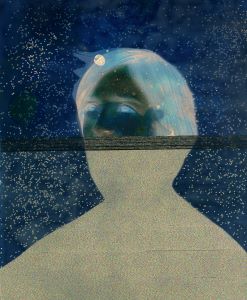 Photo: Aline Smithson , Fugue State Revisited #24, 2021
Fee Breakdown
| Category | Description | Amount |
| --- | --- | --- |
| Course Fee (Basic) | Winter Tuition | $ 570.00 |
| Mandatory Fee | Material Fee | $ 40.00 |
| Date | Day | Time | Location |
| --- | --- | --- | --- |
| 02/16/2022 | Wednesday | 2 PM to 5 PM | Online Zoom Classroom |
| 02/23/2022 | Wednesday | 2 PM to 5 PM | Online Zoom Classroom |
| 03/02/2022 | Wednesday | 2 PM to 5 PM | Online Zoom Classroom |
| 03/09/2022 | Wednesday | 2 PM to 5 PM | Online Zoom Classroom |
| 03/23/2022 | Wednesday | 2 PM to 5 PM | Online Zoom Classroom |
| 03/30/2022 | Wednesday | 2 PM to 5 PM | Online Zoom Classroom |