Architectural Photography
Course Code: 22SCELI134
Dates: May 7-12, 2022
Meets: Sa, Su from 10:00 AM to 5:00 PM and Th from 6:30 PM to 8:30 PM ET
Location: In-Person and Online Zoom
Spring Tuition: $495
This workshop introduces students to the camera and lighting techniques behind great architectural photography. During two onsite days, students learn to photograph a building in a way that highlights its structure among the full panorama of New York City architecture. They also undertake photographing an interior with extreme care and attention to every detail. Students learn about and apply specific tools and techniques, achieving images that are geometrically balanced and content rich. A final class takes place on zoom, where students share and discuss the photographs made during the workshop.
Course Level / Prerequisite: Intermediate: You are familiar with a camera, whether film or digital. You understand aperture, shutter speed, exposure, white balance, histograms, and how to control focus. You are comfortable editing and processing your images. You may want to learn how to utilize your camera in a more thoughtful and articulate way, or learn more about lighting or how to utilize theoretical concepts in relation to your portfolio of work.
In accordance with ICP's COVID-19 Safety Guidelines and Policies, all Continuing Education students are required to be fully vaccinated and to have received the most recently available booster shots in order to attend onsite courses. This includes courses taking place at the ICP School location (79 Essex Street - entrance at 84 Ludlow Street) as well as offsite locations. Students will be required to provide proof of their vaccination status during the registration process, unless an exemption has been granted. ICP requires masks to be worn while in class, and while in other public areas of ICP, to protect the health and safety of all employees, students, and visitors. We encourage students, faculty, and staff to wear a KN95 and/or KF94 mask at ICP.
Courses are subject to minimum enrollment. In order to comply with ICP's COVID-19 Safety Guidelines and Policies, registration for this course will close two days prior to the start date of the course.
Students attending in-person courses will be required to complete ICP's online Daily Health Screening prior to entering the ICP school.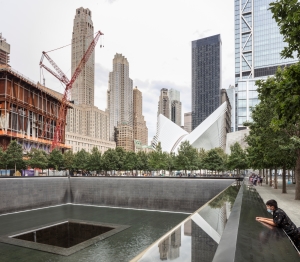 Image: Sean Hemmerle, World Trade Center Memorial, New York, NY 2021
Fee Breakdown
| Category | Description | Amount |
| --- | --- | --- |
| Course Fee (Basic) | Spring Tuition | $ 460.00 |
| Mandatory Fee | Material Fee | $ 35.00 |
In-Person and Online Zoom
| Date | Day | Time | Location |
| --- | --- | --- | --- |
| 05/07/2022 | Saturday | 10 AM to 5 PM | ICP (84 Ludlow Street) |
| 05/08/2022 | Sunday | 10 AM to 5 PM | ICP (84 Ludlow Street) |
| 05/12/2022 | Thursday | 6:30 PM to 8:30 PM | Online Zoom Classroom |
Students should bring a camera they are comfortable with, wide lenses, and laptop if they have one.