Photographing New York: The Lower East Side
Course Code: 22FCENY112
Dates: September 2 - November 4, 2022
Meets: F from 2:00 PM to 5:00 PM ET
Location: ICP (84 Ludlow Street)
Course Tuition: $810
Sorry, we are no longer accepting registrations for this course. Please contact our office to find out if it will be rescheduled, or if alternative classes are available.
The streets and tenements of the Lower East Side, as depicted in the iconic photographs of Jacob Riis, Berenice Abbott, and Helen Levitt, have long been home to immigrants from around the world. Today, newcomers push into established ethnic enclaves, and new construction threatens the historic streetscape. Students work in the field together and independently to document different geographical or thematic aspects of the neighborhood.
Course Level / Prerequisite: Open to all skill levels. Students ranging from beginner to experienced will be successful in classes that are Open to All Skill Levels.
Courses are subject to minimum enrollment. In order to comply with ICP's COVID-19 Safety Guidelines and Policies, registration for this course will close two days prior to the start date of the course.
Please be sure to read and understand ICP's COVID-19 Policies before registering for in-person courses. Students attending in-person courses will be required to complete ICP's online Daily Health Screening, sent daily by email, prior to entering the ICP school.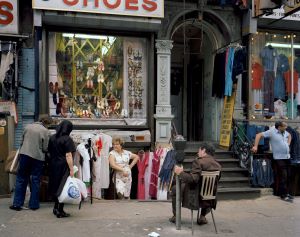 Image: Brian Rose
| Date | Day | Time | Location |
| --- | --- | --- | --- |
| 09/02/2022 | Friday | 2 PM to 5 PM | ICP (84 Ludlow Street) |
| 09/09/2022 | Friday | 2 PM to 5 PM | ICP (84 Ludlow Street) |
| 09/16/2022 | Friday | 2 PM to 5 PM | ICP (84 Ludlow Street) |
| 09/23/2022 | Friday | 2 PM to 5 PM | ICP (84 Ludlow Street) |
| 09/30/2022 | Friday | 2 PM to 5 PM | ICP (84 Ludlow Street) |
| 10/07/2022 | Friday | 2 PM to 5 PM | ICP (84 Ludlow Street) |
| 10/14/2022 | Friday | 2 PM to 5 PM | ICP (84 Ludlow Street) |
| 10/21/2022 | Friday | 2 PM to 5 PM | ICP (84 Ludlow Street) |
| 10/28/2022 | Friday | 2 PM to 5 PM | ICP (84 Ludlow Street) |
| 11/04/2022 | Friday | 2 PM to 5 PM | ICP (84 Ludlow Street) |