Film Camera Basics
Course Code: 22FCEFB005
Dates: September 1, 2022
Meets: Th from 6:30 PM to 9:30 PM ET
Location: ICP (84 Ludlow Street)
Course Tuition: $100
Sorry, we are no longer accepting registrations for this course. Please contact our office to find out if it will be rescheduled, or if alternative classes are available.
For students new to film photography or seeking a refresher, this 3-hour course teaches the basics of the film camera. The course covers the essential functions of the analog film camera: shutter, aperture, light meter, and ISO dial. Used together, these functions are the foundation for successfully photographing with film. This course will also provide an extra foundation for beginning photographers intending to enroll in Black-and-White Film Photography I. Experienced digital photographers may be ready to enroll directly in Black-and-White Film Photography II after taking Film Camera Basics.
Course Level / Prerequisite: Beginner. No prior photography experience is needed for these foundation courses.
Please note that discounts are only valid when the tuition for the course exceeds $100.
Courses are subject to minimum enrollment. In order to comply with ICP's COVID-19 Safety Guidelines and Policies, registration for this course will close two days prior to the start date of the course.
Please be sure to read and understand ICP's COVID-19 Policies before registering for in-person courses. Students attending in-person courses will be required to complete ICP's online Daily Health Screening, sent daily by email, prior to entering the ICP school.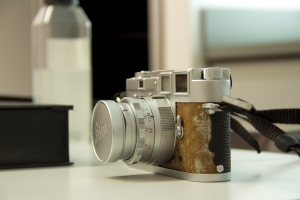 Please bring a working film camera with manual settings (aperture, shutter, ISO) and have a fresh battery in the camera.