Finishing your body of work with confidence
Course Code: 21MILP009
Dates: August 17-26, 2021
Meets: Tu, Th and F from 10:00 AM to 12:30 PM ET
Location: Online Zoom Classroom
Cost: $0
Sorry, we are no longer accepting registrations for this course. Please contact our office to find out if it will be rescheduled, or if alternative classes are available.
This course provides the push needed to help you finish a body (or nearly finished body) of work. Through live group and one-on-one Zoom sessions and asynchronous interactions utilizing Atget Studio software, your instructor and classmates from all over the world will share ideas, provide feedback on sequencing, and offer advice and insight to help bring your work to completion. This course is designed to encourage an immersive spirit of cooperation and participation to help you gain a deeper clarity and renewed perspective of your vision.
Course Level / Prerequisite: Advanced: You are comfortable with your camera, whether film or digital, and with your photographic practice. You have already produced or are working on a body of work. You are proficient in Adobe applications such as Photoshop, Lightroom, Premiere, et cetera. You understand printing or portfolio revision processes. You may be seeking ways to strengthen your work through sequencing, theoretical readings, and group critiques.
Note: It is recommended that students have access to Lightroom or Photoshop for this course.
Additional Note: Students will participate in office hours on August 25.
Course Schedule Note: Students will meet as a group in live Zoom classes and interact the remainder of the time through Atget Studio where they will communicate with their teacher and classmates in an exchange of ideas and feedback with one another. Please be aware that there will be additional time to the listed schedule for student participation.
Atget Software Requirement: Students are required to participate in a one hour Zoom meeting to learn the Atget software prior to the start of class. More information will be sent to the students prior to the first session with further details by the faculty member. Students may choose from one of the following sessions:
August 11
10-11am ET or 5-6pm ET
August 13
10-11am ET or 5-6pm ET
August 15
10-11am ET or 5-6pm ET
August 16
10-11am ET or 5-6pm ET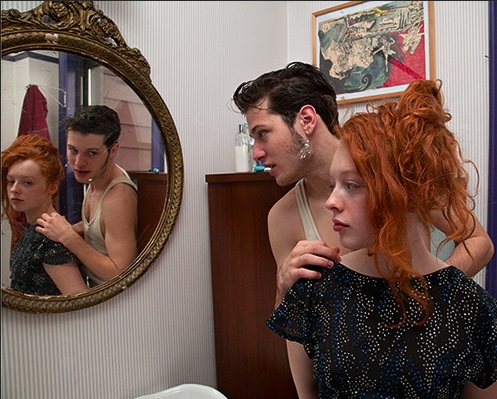 Image: Martine Fougeron
| Date | Day | Time | Location |
| --- | --- | --- | --- |
| 08/17/2021 | Tuesday | 10 AM to 12:30 PM | Online Zoom Classroom |
| 08/20/2021 | Friday | 10 AM to 12:30 PM | Online Zoom Classroom |
| 08/24/2021 | Tuesday | 10 AM to 12:30 PM | Online Zoom Classroom |
| 08/25/2021 | Wednesday | 11 AM to 4 PM | Online Zoom Classroom |
| 08/26/2021 | Thursday | 10 AM to 12:30 PM | Online Zoom Classroom |
You should prepare a folder with your project and have it ready to share, from your desktop on Zoom (via Bridge or Lightroom) and on the Atget platform (jpg no longer than 2400 on longest side).