Finishing your body of work with confidence
Course Code: 21FILP016
Dates: October 25 - November 4, 2021
Meets: M, Tu and Th from 10:00 AM to 12:30 PM ET
Location: Online Zoom Classroom
Fall Tuition: $755
This course facilitates the finishing of a body (or nearly finished body) of work. In five live group Zoom sessions, explore ideas, edits and sequencing. In an additional one-on-one Zoom session, work directly with your teacher to refine a final edit to present to the class. Share and receive feedback throughout the week in an evolving conversation about your work with your cohort through Atget Studio* software (expect to spend 2-3 hours/week outside of class). Engage in an immersive, generous and rewarding community of artists from around the world and gain a deeper clarity and renewed perspective of your work.
Additionally, students are required to meet 1:1 with their teacher between 10:00am-12:30pm ET on Tuesday, 11/2. Signup with your teacher during your live Zoom meetings.
Course Level / Prerequisite: Advanced: You are comfortable with your camera, whether film or digital, and with your photographic practice. You have already produced or are working on a body of work. You are proficient in Adobe applications such as Photoshop, Lightroom, Premiere, et cetera. You understand printing or portfolio revision processes. You may be seeking ways to strengthen your work through sequencing, theoretical readings, and group critiques.
Note: Students should have Adobe Lightroom and Photoshop for this class.
*Students must participate in an one hour Atget Studio training via Zoom prior to the start of class. See 'Class Preparation' for dates to attend.
Courses are subject to minimum enrollment. Please register early, within five days of the start-date, to reduce the likelihood of course cancellation and to ensure you receive all course-related materials in time to prepare for class.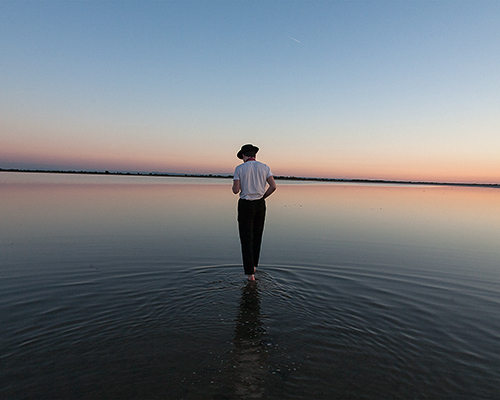 Image: Martine Fougeron, Nicolas & Adrien. Adrien in Camargue. 2010.
| Date | Day | Time | Location |
| --- | --- | --- | --- |
| 10/25/2021 | Monday | 10 AM to 12:30 PM | Online Zoom Classroom |
| 10/26/2021 | Tuesday | 10 AM to 12:30 PM | Online Zoom Classroom |
| 10/28/2021 | Thursday | 10 AM to 12:30 PM | Online Zoom Classroom |
| 11/01/2021 | Monday | 10 AM to 12:30 PM | Online Zoom Classroom |
| 11/04/2021 | Thursday | 10 AM to 12:30 PM | Online Zoom Classroom |
Upload a body of work you are planning to work into an Atget Studio wall for the first class. Please also have it on your computer to share at approximately 3,000 pixel on largest side (jpg). Please try to restrict the number of images to 150 images. Please be prepared to make a 10 minute presentation of your body of work during the first class. You will receive an invite to join Atget Studio by email prior to the start of the first class. Please complete your registration before class.
Students must participate in an hour long Atget Studio training via Zoom on one of the following dates prior to the start of class:
October 8th,13 or 15th from 10-11am ET
or
October 12th, 14th or 18th from 5-6pm ET