The Art and Practice of Video for Beginners
Course Code: 24SCEDV200I
Dates: February 24 - March 3, 2024
Meets: Sa and Su from 10:00 AM to 5:00 PM ET
Location: ICP (84 Ludlow Street)
Course Tuition: $795
This course is for students who have thought about working with video, but have yet to take the plunge. Participants begin the class with a photograph, a story, an audio recording, or an idea, and use that material as a jumping-off point for a short video piece. In this course, technique, form, and content are taught simultaneously. We will cover the basics of shooting video with DSLR cameras, different methods of sound capture, and editing with Adobe Premiere. Students will also begin to think about how to frame images for video, consider camera movements, and learn a range of editing techniques. In addition, a comparative study of historical and contemporary video artists will stimulate class discussions and point participants toward a personal approach. At the end of the class, students will have finished a video piece and gained an expanded sense of possibilities in art-making. This course is limited to 13 students.
Course Level / Prerequisite:
Intermediate: You are familiar with a camera, whether film or digital. You understand aperture, shutter speed, exposure, white balance, histograms, and how to control focus. You are comfortable editing and processing your images. You may want to learn how to utilize your camera in a more thoughtful and articulate way, or learn more about lighting or how to utilize theoretical concepts in relation to your portfolio of work.
Students are encouraged to review ICP's Classroom Disclaimer for current information regarding COVID-19 policies, classroom guidelines, and more. These policies are subject to change at anytime.
Courses are subject to minimum enrollment. In order to comply with ICP's COVID-19 Safety Guidelines and Policies, registration for this course will close two days prior to the start date of the course.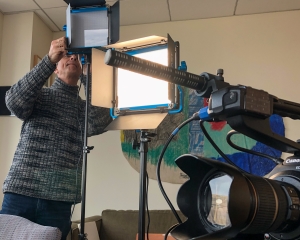 Image: Stefanie Dworkin
Fee Breakdown
| Category | Description | Amount |
| --- | --- | --- |
| Course Fee (Basic) | Course Tuition | $ 775.00 |
| Mandatory Fee | Material Fee | $ 20.00 |
| Date | Day | Time | Location |
| --- | --- | --- | --- |
| 02/24/2024 | Saturday | 10 AM to 5 PM | ICP (84 Ludlow Street) |
| 02/25/2024 | Sunday | 10 AM to 5 PM | ICP (84 Ludlow Street) |
| 03/02/2024 | Saturday | 10 AM to 5 PM | ICP (84 Ludlow Street) |
| 03/03/2024 | Sunday | 10 AM to 5 PM | ICP (84 Ludlow Street) |
A DSLR, mirrorless or mobile phone capable of shooting video is required. Students will also need to provide their own external harddrive.