How to Use Your Digital SLR or Mirrorless Camera
Course Code: 24SCEDP101IA
Dates: January 28, 2024
Meets: Su from 10:00 AM to 5:00 PM ET
Location: ICP (84 Ludlow Street)
Course Tuition: $290
This workshop demystifies the digital single-lens reflex (DSLR) and mirrorless digital cameras. As students practice taking digital photographs, they learn how to use all the settings and functions of their cameras. Topics include auto white balance, color space, color temperature, formatting, correct exposure for digital images, and the advantages of shooting in different file formats. Participants explore the many functions that a DSLR or mirrorless digital camera shares with a traditional film camera, and discover how to use them to create the best possible image.
Course Level / Prerequisite: Beginner. No prior photography experience is needed for these foundation courses.
Students are encouraged to review ICP's Classroom Disclaimer for current information regarding COVID-19 policies, classroom guidelines, and more. These policies are subject to change at anytime.
Courses are subject to minimum enrollment. Please register early, within five days of the start-date, to reduce the likelihood of course cancellation and to ensure you receive all course-related materials in time to prepare for class. Registration for this course will close one day prior to the start date of the course.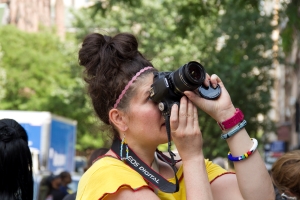 Please bring your camera along with one lens to class. Make sure the battery is charged and that you have a memory (media) card installed. If you have the instruction manual, bring that, too.