Black-and-White Film Photography I
Course Code: 24JCEFB001I
Dates: January 2-5, 2024
Meets: Tu, W, Th and F from 10:00 AM to 5:00 PM ET
Location: ICP (84 Ludlow Street)
Course Tuition: $680
This introductory film photography course is suited for both total beginners and digital photographers ready to jump into analog. Students learn the fundamentals of black and white film photography: camera operation and settings, film exposure and development, and essential darkroom printing skills. Weekly assignments and lectures on historical and contemporary photography guide students in exploring the technical and aesthetic possibilities of photography. The majority of class time is devoted to working in the darkroom and building printing techniques.
Students new to photography may want to take Film Camera Basics prior to this course for an additional foundation.
Course Level / Prerequisite: Open to all skill levels. Students ranging from beginner to experienced will be successful in classes that are Open to All Skill Levels.
Students are encouraged to review ICP's Classroom Disclaimer for current information regarding COVID-19 policies, classroom guidelines, and more. These policies are subject to change at anytime.
Courses are subject to minimum enrollment. Please register early, within five days of the start-date, to reduce the likelihood of course cancellation and to ensure you receive all course-related materials in time to prepare for class. Registration for this course will close one day prior to the start date of the course.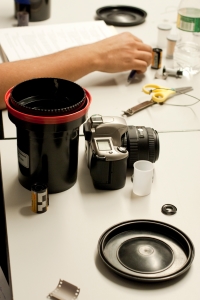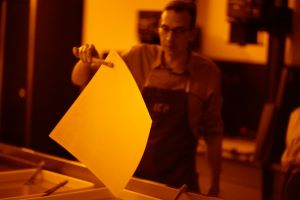 Save $150.00 with a B&W Film Photography Intensive
Fee Breakdown
| Category | Description | Amount |
| --- | --- | --- |
| Course Fee (Basic) | Course Tuition | $ 630.00 |
| Mandatory Fee | Material Fee | $ 50.00 |
| Date | Day | Time | Location |
| --- | --- | --- | --- |
| 01/02/2024 | Tuesday | 10 AM to 5 PM | ICP (84 Ludlow Street) |
| 01/03/2024 | Wednesday | 10 AM to 5 PM | ICP (84 Ludlow Street) |
| 01/04/2024 | Thursday | 10 AM to 5 PM | ICP (84 Ludlow Street) |
| 01/05/2024 | Friday | 10 AM to 1 PM | ICP (84 Ludlow Street) |
This class requires a 35mm film camera with manual shutter speed and aperture control. A 50 mm lens is suggested. Bring your camera to the first class and please be sure that your battery is working. In addition to your camera, please bring one roll of 400 ISO Ilford HP5 or Kodak Tri-X film, that is 36 exposures. Please bring one black and white and one color photograph that you like but did not take. It can be from a magazine, book, or website.