Visual Authorship: When Concept Meets Form
Course Code: 23SCEPV321
Dates: March 2 - May 11, 2023
Meets: Th from 10:00 AM to 1:00 PM ET
Location: Online Zoom Classroom
Course Tuition: $690
Developing interesting and thought-provoking photographic series requires exploring the interaction of concept and form: the place where subject, idea, approach, aesthetics, and visual language meet successfully. This course focuses on developing conceptual work while delving into two complementary aspects-building knowledge and deepening your practice through weekly in-class critiques and lectures. Together, we lay the foundation for a long-lasting practice that is coherent, consistent, genuine, and authentic. Experimentation, collaboration, and review are core elements of this collective and individual process, which offers the framework for creating new work.
Course Level / Prerequisite: Intermediate: You are familiar with a camera, whether film or digital. You understand aperture, shutter speed, exposure, white balance, histograms, and how to control focus. You are comfortable editing and processing your images. You may want to learn how to utilize your camera in a more thoughtful and articulate way, or learn more about lighting or how to utilize theoretical concepts in relation to your portfolio of work.
Courses are subject to minimum enrollment. Please register early, within five days of the start-date, to reduce the likelihood of course cancellation and to ensure you receive all course-related materials in time to prepare for class.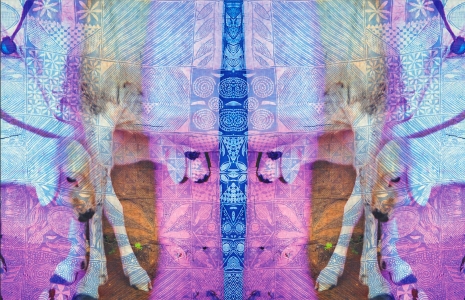 Image: Sanne De Wilde & Bénédicte Kurzen, untitled, from the series LAND OF IBEJI, 2018
| Date | Day | Time | Location |
| --- | --- | --- | --- |
| 03/02/2023 | Thursday | 10 AM to 1 PM | Online Zoom Classroom |
| 03/09/2023 | Thursday | 10 AM to 1 PM | Online Zoom Classroom |
| 03/23/2023 | Thursday | 10 AM to 1 PM | Online Zoom Classroom |
| 03/30/2023 | Thursday | 10 AM to 1 PM | Online Zoom Classroom |
| 04/06/2023 | Thursday | 10 AM to 1 PM | Online Zoom Classroom |
| 04/13/2023 | Thursday | 10 AM to 1 PM | Online Zoom Classroom |
| 04/20/2023 | Thursday | 10 AM to 1 PM | Online Zoom Classroom |
| 04/27/2023 | Thursday | 10 AM to 1 PM | Online Zoom Classroom |
| 05/04/2023 | Thursday | 10 AM to 1 PM | Online Zoom Classroom |
| 05/11/2023 | Thursday | 10 AM to 1 PM | Online Zoom Classroom |
Please bring a portfolio presentation (powerpoint, keynote) with previous work to present yourself & your practice, a project in progress and an idea for new work