Photography II: Image and Workflow
Course Code: 23SCEDP121A
Dates: April 17 - May 15, 2023
Meets: M from 6:30 PM to 9:30 PM ET
Location: ICP (84 Ludlow Street)
Course Tuition: $555
Sorry, we are no longer accepting registrations for this course. Please contact our office to find out if it will be rescheduled, or if alternative classes are available.
Students build upon the skills learned in Photography I, furthering their camera skills and making images with greater intention. The robust editing features and image management possibilities of Adobe Lightroom are explored in depth, helping students craft their personal style and vision. Printing from Lightroom is also introduced. Photo assignments, lessons, and critique sessions guide students in deepening their photographic knowledge.

Note: This course takes place in ICP Digital Media Labs where students will have access to Adobe Creative Cloud software and will receive an additional 5 lab hours, to complete class work.
Course Level / Prerequisite: Intermediate: You are familiar with a camera, whether film or digital. You understand aperture, shutter speed, exposure, white balance, histograms, and how to control focus. You are comfortable editing and processing your images. You may want to learn how to utilize your camera in a more thoughtful and articulate way, or learn more about lighting or how to utilize theoretical concepts in relation to your portfolio of work.
Students are encouraged to review ICP's Classroom Disclaimer for current information regarding COVID-19 policies, classroom guidelines, and more. These policies are subject to change at anytime.
Courses are subject to minimum enrollment. Please register early, within five days of the start-date, to reduce the likelihood of course cancellation and to ensure you receive all course-related materials in time to prepare for class. Registration for this course will close one day prior to the start date of the course.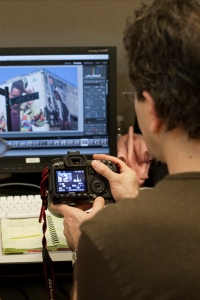 Save $150.00 with a Photography Foundations Intensive
Fee Breakdown
| Category | Description | Amount |
| --- | --- | --- |
| Course Fee (Basic) | Course Tuition | $ 535.00 |
| Mandatory Fee | Material Fee | $ 20.00 |
| Date | Day | Time | Location |
| --- | --- | --- | --- |
| 04/17/2023 | Monday | 6:30 PM to 9:30 PM | ICP (84 Ludlow Street) |
| 04/24/2023 | Monday | 6:30 PM to 9:30 PM | ICP (84 Ludlow Street) |
| 05/01/2023 | Monday | 6:30 PM to 9:30 PM | ICP (84 Ludlow Street) |
| 05/08/2023 | Monday | 6:30 PM to 9:30 PM | ICP (84 Ludlow Street) |
| 05/15/2023 | Monday | 6:30 PM to 9:30 PM | ICP (84 Ludlow Street) |
Students should be comfortable shooting in manual, aperture and shutter priority modes. A basic familiarity with Adobe Lightroom and/or Lightroom Classic is helpful, but not required. Students should bring 25-50 of their own images to class to be used in Adobe Lightroom.