Reconsidering Intimacy and Form: Portraiture Then and Now
Course Code: 23MCEPO210I
Dates: July 15-23, 2023
Meets: Sa and Su from 10:00 AM to 5:00 PM ET
Location: ICP (84 Ludlow Street)
Course Tuition: $725
In this course, students learn how to think about the body as a form. Pushing past traditional portrait ideas, students immerse themselves in unique photographs of bodies that speak to form, light, and intimacy. Through films, exhibition visits, and class discussions, we review underrepresented photographers, both past and present, with a focus on the LGBTQ+ community. Students examine photographers who have used their experiences as minorities to represent intimacy as well as the body as a form that transcends labels and boundaries. Participants complete a project inspired by intimacy, form, and/or their own personal struggle with any level of oppression.
Course Level / Prerequisite: Intermediate: You are familiar with a camera, whether film or digital. You understand aperture, shutter speed, exposure, white balance, histograms, and how to control focus. You are comfortable editing and processing your images. You may want to learn how to utilize your camera in a more thoughtful and articulate way, or learn more about lighting or how to utilize theoretical concepts in relation to your portfolio of work.
Students are encouraged to review ICP's Classroom Disclaimer for current information regarding COVID-19 policies, classroom guidelines, and more. These policies are subject to change at anytime.
Courses are subject to minimum enrollment. Please register early, within five days of the start-date, to reduce the likelihood of course cancellation and to ensure you receive all course-related materials in time to prepare for class. Registration for this course will close one day prior to the start date of the course.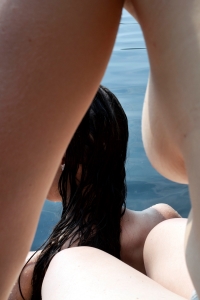 Image: Jeanette Spicer, L and A at The Lake, What It Means To Be Here, 2021
Fee Breakdown
| Category | Description | Amount |
| --- | --- | --- |
| Course Fee (Basic) | Course Tuition | $ 705.00 |
| Mandatory Fee | Material Fee | $ 20.00 |
| Date | Day | Time | Location |
| --- | --- | --- | --- |
| 07/15/2023 | Saturday | 10 AM to 5 PM | ICP (84 Ludlow Street) |
| 07/16/2023 | Sunday | 10 AM to 5 PM | ICP (84 Ludlow Street) |
| 07/22/2023 | Saturday | 10 AM to 5 PM | ICP (84 Ludlow Street) |
| 07/23/2023 | Sunday | 10 AM to 5 PM | ICP (84 Ludlow Street) |
For the first class session, prepare 5-10 physical prints OR jpg images on a hard drive or flash drive to present. These images can be from past or current projects, and they do not have to be a series. In general students should have the following materials for class:*hard drive or flash drive*access to a printer or a printing service*a camera of any kind that they know how to use and can produce images as prints or edited files with a quick turn around.