Portrait Lighting Techniques: Studio and Location
Course Code: 23JCELI138
Dates: January 17-21, 2023
Meets: Tu, W, Th, F and Sa from 10:00 AM to 5:30 PM ET
Location: ICP (84 Ludlow Street)
Course Tuition: $1,095
Sorry, we are no longer accepting registrations for this course. Please contact our office to find out if it will be rescheduled, or if alternative classes are available.
Refine your portrait skills in this dynamic, weeklong lighting workshop, where we delve into the three main elements of lighting: direction, quality, and depth. We also explore their intricacies, including lighting patterns, how they define the face, and how to control their quality through light modifiers. Following step-by-step instructions in manual and TTL modes, participants work with both studio strobes and portable flashes, shooting with models at several locations in NYC and in the studio. This energetic and valuable workshop is for emerging photographers or those who seek to make better portraits, with or without a lot of expensive equipment.
Note: Familiarity with Adobe Lightroom is required for this course
Course Level / Prerequisite: Intermediate: You are familiar with a camera, whether film or digital. You understand aperture, shutter speed, exposure, white balance, histograms, and how to control focus. You are comfortable editing and processing your images. You may want to learn how to utilize your camera in a more thoughtful and articulate way, or learn more about lighting or how to utilize theoretical concepts in relation to your portfolio of work.
In accordance with ICP's COVID-19 Safety Guidelines and Policies, all Continuing Education students are required to be fully vaccinated in order to attend onsite courses. This includes courses taking place at the ICP School location (79 Essex Street - entrance at 84 Ludlow Street) as well as offsite locations. Students will be required to provide proof of their vaccination status during the registration process, unless an exemption has been granted. Masks are strongly recommended, but not required in class and in other public areas of ICP to protect the health and safety of all employees, students and visitors. These policies are subject to change at anytime.
Courses are subject to minimum enrollment. Please register early, within five days of the start-date, to reduce the likelihood of course cancellation and to ensure you receive all course-related materials in time to prepare for class. In order to comply with ICP's COVID-19 Safety Guidelines and Policies, registration for this course will close two days prior to the start date of the course.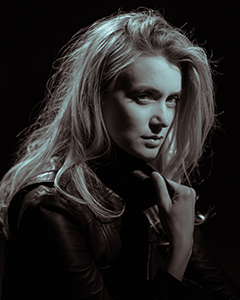 Image: Bobbi Lane
| Date | Day | Time | Location |
| --- | --- | --- | --- |
| 01/17/2023 | Tuesday | 10 AM to 5:30 PM | ICP (84 Ludlow Street) |
| 01/18/2023 | Wednesday | 10 AM to 5:30 PM | ICP (84 Ludlow Street) |
| 01/19/2023 | Thursday | 10 AM to 5:30 PM | ICP (84 Ludlow Street) |
| 01/20/2023 | Friday | 10 AM to 5:30 PM | ICP (84 Ludlow Street) |
| 01/21/2023 | Saturday | 10 AM to 5:30 PM | ICP (84 Ludlow Street) |
Students should arrive to the first class ready to introduce themselves by presenting examples of their own work, particularly portraits but any work is welcome. A minimum of ten images is recommended; maximum of twenty. There will be opportunity to discuss techniques and methods to change or improve lighting, capture techniques or processing. Students may also share portraits made by other photographers and present questions about how to achieve certain looks or techniques.