Inspired by the Arts: Unlocking Your Photographic Imagination
Course Code: 23FCEPV200I
Dates: October 5 - December 14, 2023
Meets: Th from 6:30 PM to 9:30 PM ET
Location: ICP (84 Ludlow Street)
Course Tuition: $860
This is a class that will take you on an in-depth journey of artistic self-discovery. When we encounter roadblocks with our creative work, we often don't realize that the solution is within us and not external to us. To unlock your creativity, it is helpful to remember that photography is only one discipline among several. All artistic endeavors, be it photography, music, painting, poetry even opera ultimately come from the same internal source. In this class we will explore them all in order to realize how our photographic practice can grow immensely by drawing inspiration from other art forms. Come along and learn how the rhythm and the beat of a piece of music can be the exact same rhythms and beats contained in your photographs. Or, how the colors and textures of a painting can inform your photographs. This is a unique class for those who are up for the challenge of expanding the breadth of their work in ways they could not otherwise have imagined.
Course Level / Prerequisite: Intermediate: You are familiar with a camera, whether film or digital. You understand aperture, shutter speed, exposure, white balance, histograms, and how to control focus. You are comfortable editing and processing your images. You may want to learn how to utilize your camera in a more thoughtful and articulate way, or learn more about lighting or how to utilize theoretical concepts in relation to your portfolio of work.
Students are encouraged to review ICP's Classroom Disclaimer for current information regarding COVID-19 policies, classroom guidelines, and more. These policies are subject to change at anytime.
Courses are subject to minimum enrollment. Please register early, within five days of the start-date, to reduce the likelihood of course cancellation and to ensure you receive all course-related materials in time to prepare for class. Registration for this course will close one day prior to the start date of the course.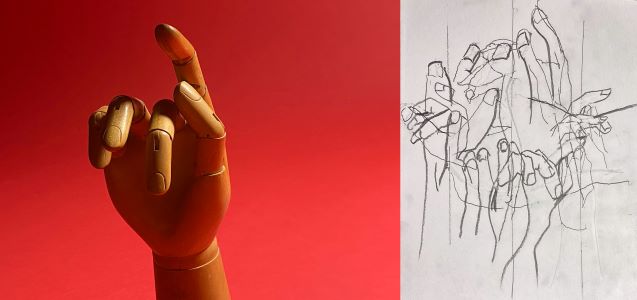 Neal Slavin, Combination Mannequin & Pencil Drawing, 2023
Fee Breakdown
| Category | Description | Amount |
| --- | --- | --- |
| Course Fee (Basic) | Course Tuition | $ 840.00 |
| Mandatory Fee | Material Fee | $ 20.00 |
| Date | Day | Time | Location |
| --- | --- | --- | --- |
| 10/05/2023 | Thursday | 6:30 PM to 9:30 PM | ICP (84 Ludlow Street) |
| 10/12/2023 | Thursday | 6:30 PM to 9:30 PM | ICP (84 Ludlow Street) |
| 10/19/2023 | Thursday | 6:30 PM to 9:30 PM | ICP (84 Ludlow Street) |
| 10/26/2023 | Thursday | 6:30 PM to 9:30 PM | ICP (84 Ludlow Street) |
| 11/02/2023 | Thursday | 6:30 PM to 9:30 PM | ICP (84 Ludlow Street) |
| 11/09/2023 | Thursday | 6:30 PM to 9:30 PM | ICP (84 Ludlow Street) |
| 11/16/2023 | Thursday | 6:30 PM to 9:30 PM | ICP (84 Ludlow Street) |
| 11/30/2023 | Thursday | 6:30 PM to 9:30 PM | ICP (84 Ludlow Street) |
| 12/07/2023 | Thursday | 6:30 PM to 9:30 PM | ICP (84 Ludlow Street) |
| 12/14/2023 | Thursday | 6:30 PM to 9:30 PM | ICP (84 Ludlow Street) |