The Intimate Portrait (Online)
Course Code: 23FCEPO210V
Dates: October 12 - November 16, 2023
Meets: Th from 10:00 AM to 1:00 PM ET
Location: Online Zoom Classroom
Course Tuition: $535
Participants in this course make portraits inspired by cinema and paintings of old masters. We discuss the characteristics of light, the role of attire, and the use of color to sharpen our visual language. This discussion-based course is meant to encourage you to think critically about the role we as photographers play in exposing the intimate, the nuanced, and the personal. How do we depict intimacy in portraiture? What is the role of costume and staging in telling a story? Each session, students bring in a photograph they have taken as the basis of discussion and constructive group critique.
Course Level / Prerequisite: Intermediate: You are familiar with a camera, whether film or digital. You understand aperture, shutter speed, exposure, white balance, histograms, and how to control focus. You are comfortable editing and processing your images. You may want to learn how to utilize your camera in a more thoughtful and articulate way, or learn more about lighting or how to utilize theoretical concepts in relation to your portfolio of work.
Courses are subject to minimum enrollment. Please register early, within five days of the start-date, to reduce the likelihood of course cancellation and to ensure you receive all course-related materials in time to prepare for class.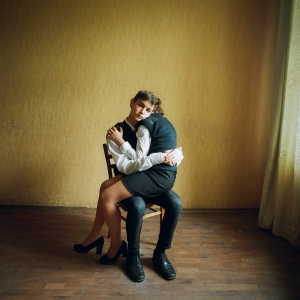 Image: Michal Chelbin, Svet and Liza, Ukraine 2017
Fee Breakdown
| Category | Description | Amount |
| --- | --- | --- |
| Course Fee (Basic) | Course Tuition | $ 495.00 |
| Mandatory Fee | Material Fee | $ 40.00 |
| Date | Day | Time | Location |
| --- | --- | --- | --- |
| 10/12/2023 | Thursday | 10 AM to 1 PM | Online Zoom Classroom |
| 10/19/2023 | Thursday | 10 AM to 1 PM | Online Zoom Classroom |
| 10/26/2023 | Thursday | 10 AM to 1 PM | Online Zoom Classroom |
| 11/02/2023 | Thursday | 10 AM to 1 PM | Online Zoom Classroom |
| 11/09/2023 | Thursday | 10 AM to 1 PM | Online Zoom Classroom |
| 11/16/2023 | Thursday | 10 AM to 1 PM | Online Zoom Classroom |