Architecture and Landscape in Red Hook and Park Slope
Course Code: 22WCENY018
Dates: March 12-16, 2022
Meets: Sa and Su from 1:00 PM to 6:00 PM ET, and W from 6:30 PM to 8:30 PM ET
Location: In-Person and Online Zoom
Winter Tuition: $440
Park Slope offers some of the grandest townhouses in Brooklyn, from Queen Anne to Italianate, as well as arguably the finest park in the five boroughs – Prospect Park, painstakingly designed by Frederick Law Olmsted and Calvert Vaux. Drawing upon inspiration presented in class, students will be provided with examples and exercises to experiment with while out photographing. On day 2, we will visit Red Hook, Brooklyn, a counterpoint to the grandeur of Park Slope – a neighborhood that has always been a bit rough-and-tumble. Today, Red Hook has gentrified like other corners of Brooklyn but still maintains a bit of its seafaring past, as seen through the historic Beard Street warehouses and its unique and stunning waterfront, gazing directly upon Lady Liberty, Governor's Island, and downtown Manhattan. After the class, students will be able to share their work in a one-hour follow up critique.
Note: This course meets 3/12 and 3/13 1-6PM on location, and 3/16 6:30-8:30 PM on Zoom.
Course Level / Prerequisite: Open to all skill levels. Students ranging from beginner to experienced will be successful in classes that are Open to All Skill Levels.
In accordance with ICP's COVID-19 Safety Guidelines and Policies, all Continuing Education students are required to be fully vaccinated in order to attend in-person courses. This includes courses taking place at the ICP School location (84 Ludlow Street) as well as offsite locations. Students will be required to provide proof of their vaccination status during the registration process, unless an exemption has been granted. ICP strongly recommends that masks are worn while in class or in other public areas of ICP to protect the health and safety of all employees, students, and visitors.
This class will be held on the public streets of New York City and you are responsible for assessing your tolerance for known or anticipated risks that may cause physical or emotional injury to yourself or others. You assume all responsibility for any risk of loss, property damage, or personal injury, that may be sustained by you, or any loss or damage to property owned by you, as a result of participating in the class, whether caused by the negligence of ICP or otherwise, to the fullest extent allowed by law. You agree to alert ICP, prior to the start date of the class, of any medical conditions that may affect you during class.
Courses are subject to minimum enrollment. In order to comply with ICP's COVID-19 Safety Guidelines and Policies, registration for this course will close two days prior to the start date of the course.
Students attending in-person courses will be required to complete ICP's online Daily Health Screening prior to entering the ICP school.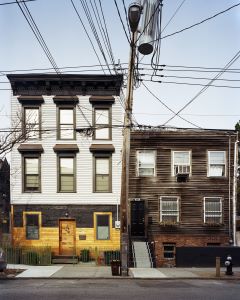 Image: Jade Doskow, Two Houses, King Street (from 'Red Hook'), 2016
In-Person and Online Zoom
| Date | Day | Time | Location |
| --- | --- | --- | --- |
| 03/12/2022 | Saturday | 1 PM to 6 PM | ICP (84 Ludlow Street) |
| 03/13/2022 | Sunday | 1 PM to 6 PM | ICP (84 Ludlow Street) |
| 03/16/2022 | Wednesday | 6:30 PM to 8:30 PM | Online Zoom Classroom |
Come prepared for the weather! Wear comfortable shoes and don't forget to charge your camera batteries.