Evening Walks With Your Camera
Course Code: 22WCELA109
Dates: March 14 - April 4, 2022
Meets: M from 6:00 PM to 9:00 PM ET
Location: In-Person and Online Zoom
Winter Tuition: $385
Students explore different routes through the familiar surroundings of Manhattan and Brooklyn water front areas in the evening. As they hone their observational skills, they photographically capture the ways in which the shifting balance of light and shadow adds to the mystery of this transitional time and makes the familiar seem strange. Participants learn the basics of low-light techniques used by well-known photographers such as Robert Adams to enrich discussions of their own twilight photographic diaries. We will meet for walking tours 3 evenings and in person presentations and critiques 2 evenings.
Course Level / Prerequisite: Intermediate: You are familiar with a camera, whether film or digital. You understand aperture, shutter speed, exposure, white balance, histograms, and how to control focus. You are comfortable editing and processing your images. You may want to learn how to utilize your camera in a more thoughtful and articulate way, or learn more about lighting or how to utilize theoretical concepts in relation to your portfolio of work.
In accordance with ICP's COVID-19 Safety Guidelines and Policies, all Continuing Education students are required to be fully vaccinated in order to attend in-person courses. This includes courses taking place at the ICP School location (79 Essex Street) as well as offsite locations. Students will be required to provide proof of their vaccination status during the registration process, unless an exemption has been granted. ICP strongly recommends that masks are worn while in class, and requires masks to be worn while in other public areas of ICP, to protect the health and safety of all employees, students, and visitors.
This class will be held on the public streets of New York City and you are responsible for assessing your tolerance for known or anticipated risks that may cause physical or emotional injury to yourself or others. You assume all responsibility for any risk of loss, property damage, or personal injury, that may be sustained by you, or any loss or damage to property owned by you, as a result of participating in the class, whether caused by the negligence of ICP or otherwise, to the fullest extent allowed by law. You agree to alert ICP, prior to the start date of the class, of any medical conditions that may affect you during class.
Courses are subject to minimum enrollment. In order to comply with ICP's COVID-19 Safety Guidelines and Policies, registration for this course will close two days prior to the start date of the course.
Students attending in-person courses will be required to complete ICP's online Daily Health Screening prior to entering the ICP school.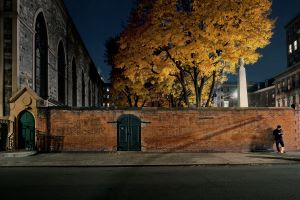 Image: Lynn Saville
Fee Breakdown
| Category | Description | Amount |
| --- | --- | --- |
| Course Fee (Basic) | Winter Tuition | $ 365.00 |
| Mandatory Fee | Material Fee | $ 20.00 |
In-Person and Online Zoom
| Date | Day | Time | Location |
| --- | --- | --- | --- |
| 03/14/2022 | Monday | 6 PM to 9 PM | In-Person and Online Zoom |
| 03/21/2022 | Monday | 6 PM to 9 PM | In-Person and Online Zoom |
| 03/28/2022 | Monday | 6 PM to 9 PM | In-Person and Online Zoom |
| 04/04/2022 | Monday | 6 PM to 9 PM | In-Person and Online Zoom |
For the first class please have ready 5 to 10 jpgs to share with the class. These can be photographs you take of different scenes at twilight, night or dawn. If you're photographing in low light for the first time, try photographing in places with different types of light sources – some natural and some artificial. Please learn how to set your camera to manual settings so that you can have greatest mastery over controlling the exposure of the photograph.