LES in Focus: iPhone Photography and Scavenger Hunt
Course Code: 22SCEDP119
Dates: May 14, 2022
Meets: Sa from 12 N to 3:00 PM ET
Location: ICP (84 Ludlow Street) Classroom A
Course Tuition: $0
Sorry, we are no longer accepting registrations for this course. Please contact our office to find out if it will be rescheduled, or if alternative classes are available.
Smartphones are not just our daily companions but a pocket-sized artistic tool. In this hands-on workshop co-taught by ICP faculty, Hannah La Follette Ryan and Roy Baizan, students will learn to use their camera phones to take artful and creative candids and portraits. Topics covered: how to use lighting, framing, composition, and in-camera editing features. The size and accessibility of phone cameras make them a natural fit for documentary photography. After learning some of these iPhone tips and tricks, students will go on an LES local business photo scavenger hunt and photowalk to explore and document this historic and diverse neighborhood.
Students may select an optional donation to ICP for this pay-what-you-wish workshop.
Prerequisite: Open to All Skill Levels: Students ranging from beginner to experienced will be successful in classes.
In accordance with ICP's COVID-19 Safety Guidelines and Policies, all Continuing Education students are required to be fully vaccinated and to have received the most recently available booster shots in order to attend onsite courses. This includes courses taking place at the ICP School location (79 Essex Street - entrance at 84 Ludlow Street) as well as offsite locations. Students will be required to provide proof of their vaccination status upon entry to the school, unless an exemption has been granted. ICP requires masks to be worn while in class, and while in other public areas of ICP, to protect the health and safety of all employees, students, and visitors. We encourage students, faculty, and staff to wear a KN95 and/or KF94 mask at ICP. These policies are subject to change at anytime.
Students attending in-person courses will be required to complete ICP's online Daily Health Screening prior to entering the ICP school.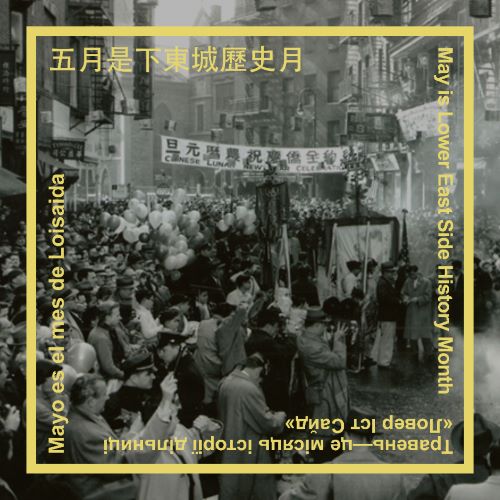 Image: Chinese, Chinese Lunar Celebration at 45 Mott Street; Courtesy of Eric Y. Ng, Museum of Chinese in America (MOCA) Collection
Fee Breakdown
| Category | Description | Amount |
| --- | --- | --- |
| Course Fee (Basic) | Course Tuition | $ 0.00 |
| Optional Fee | Optional Donation #1 | $ 10.00 |
| Optional Fee | Optional Donation #2 | $ 15.00 |
| Optional Fee | Optional Donation #3 | $ 20.00 |
| Optional Fee | Optional Donation #4 | $ 25.00 |
| Optional Fee | Optional Donation #5 | $ 50.00 |
| Optional Fee | Optional Donation #6 | $ 75.00 |
| Optional Fee | Optional Donation #7 | $ 100.00 |
ICP (84 Ludlow Street) Classroom A
ICP
Please have your camera phone charged and ready to use during the class.