Finding the Art in Your Smartphone and Instagram
Course Code: 22MCEPV00044
Dates: August 5 - September 2, 2022
Meets: F from 10:00 AM to 12 N ET
Location: Online Zoom Classroom
Course Tuition: $350
Today's pocket-sized camera phones would be a source of wonder for 19th and 20th century photographers. Millions of citizens practice smartphone photography, but it has also attracted artists using the camera phone and Instagram in their creative practice. In this course, students go beyond the basics to achieve the full artistic potential of their smartphone. Students also learn how to use Instagram to reach a wide audience for their photography. Camera phones are not just our daily companions but an artistic tool with unique capabilities: the size, immediacy and accessibility of the smartphone camera make it naturally suited to candid portraiture, street photography, photojournalism and an online audience. The course studies photographers who are challenging and innovating smartphone photography on social media, includes a guest speaker, and opportunities for students to make and critique their images.
Course Level / Prerequisite: Open to all skill levels. Students ranging from beginner to experienced will be successful in classes that are Open to All Skill Levels.
Courses are subject to minimum enrollment. Please register early, within five days of the start-date, to reduce the likelihood of course cancellation and to ensure you receive all course-related materials in time to prepare for class.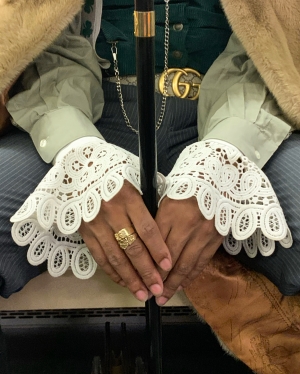 Image: Hannah La Follette Ryan, Untitled, Subwayhands series, 2020
Fee Breakdown
| Category | Description | Amount |
| --- | --- | --- |
| Course Fee (Basic) | Course Tuition | $ 330.00 |
| Mandatory Fee | Material Fee | $ 20.00 |
| Date | Day | Time | Location |
| --- | --- | --- | --- |
| 08/05/2022 | Friday | 10 AM to 12 N | Online Zoom Classroom |
| 08/12/2022 | Friday | 10 AM to 12 N | Online Zoom Classroom |
| 08/19/2022 | Friday | 10 AM to 12 N | Online Zoom Classroom |
| 08/26/2022 | Friday | 10 AM to 12 N | Online Zoom Classroom |
| 09/02/2022 | Friday | 10 AM to 12 N | Online Zoom Classroom |