On the Street: From Imaging to Editing
Course Code: 22MCEPV00012
Dates: July 25-29, 2022
Meets: M, Tu, W, Th and F from 2:00 PM to 5:00 PM ET
Location: Online Zoom Classroom
Course Tuition: $505
This introduction to the language and dynamics of street photography helps each student to develop a distinct personal vision. The workshop also addresses the photographer's Achilles' heel: editing one's own photographs. We will explore the many aspects of assembling a coherent and consistent group of images, and analyze several important photographs and photographic books, pinpointing their distinctive features. Students will make new work each day based on a specific theme chosen at the beginning of the workshop. Then, we will look at the images and carefully select the most effective ones. By the end of the workshop, students will have a sharpened awareness of what it takes to create and edit a personal project that is connected to their heart and soul.
Course Level / Prerequisite: Intermediate: You are familiar with a camera, whether film or digital. You understand aperture, shutter speed, exposure, white balance, histograms, and how to control focus. You are comfortable editing and processing your images. You may want to learn how to utilize your camera in a more thoughtful and articulate way, or learn more about lighting or how to utilize theoretical concepts in relation to your portfolio of work.
Courses are subject to minimum enrollment. Please register early, within five days of the start-date, to reduce the likelihood of course cancellation and to ensure you receive all course-related materials in time to prepare for class.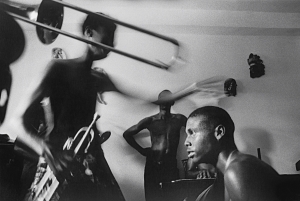 Image: Ernesto Bazan
| Date | Day | Time | Location |
| --- | --- | --- | --- |
| 07/25/2022 | Monday | 2 PM to 5 PM | Online Zoom Classroom |
| 07/26/2022 | Tuesday | 2 PM to 5 PM | Online Zoom Classroom |
| 07/27/2022 | Wednesday | 2 PM to 5 PM | Online Zoom Classroom |
| 07/28/2022 | Thursday | 2 PM to 5 PM | Online Zoom Classroom |
| 07/29/2022 | Friday | 2 PM to 5 PM | Online Zoom Classroom |
Students should prepare 20 to 30 images that you consider the best you have done so far for the initial portfolio review along with your favorite photo book. Please also start thinking about what you would like to focus on during the duration of the online course.