Recent Histories: Photography 2000-2020
Course Code: 22FCEPV0108
Dates: October 12 - December 21, 2022
Meets: W from 2:00 PM to 5:00 PM ET
Location: ICP (84 Ludlow Street)
Course Tuition: $850
This course examines the changes in photographic practice over the past two decades and considers how they can inspire and enrich students' work. From large-scale color documentary work, to photo conceptualism, experiments with materials and process, and work that engages race and gender identity, the past two decades have presented a panoply of themes and material expressions that have opened doors for artists working with the photographic. Through gallery visits (either in person or virtual), lectures, writing assignments, critique, and discussion, the class explores the terrain of contemporary photography and related media and how students can find their place in it.
Course Level / Prerequisite: Open to all skill levels. Students ranging from beginner to experienced will be successful in classes that are Open to All Skill Levels.
Courses are subject to minimum enrollment. In order to comply with ICP's COVID-19 Safety Guidelines and Policies, registration for this course will close two days prior to the start date of the course.
Please be sure to read and understand ICP's COVID-19 Policies before registering for in-person courses. Students attending in-person courses will be required to complete ICP's online Daily Health Screening, sent daily by email, prior to entering the ICP school.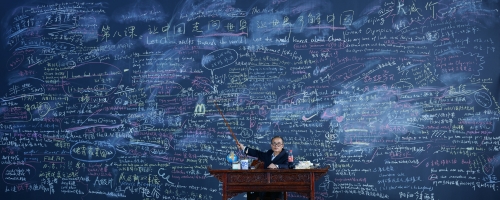 Image: Wang Qingsong, Follow Me, 2003, courtesy the artist
Fee Breakdown
| Category | Description | Amount |
| --- | --- | --- |
| Course Fee (Basic) | Course Tuition | $ 810.00 |
| Mandatory Fee | Material Fee | $ 40.00 |
| Date | Day | Time | Location |
| --- | --- | --- | --- |
| 10/12/2022 | Wednesday | 2 PM to 5 PM | ICP (84 Ludlow Street) |
| 10/19/2022 | Wednesday | 2 PM to 5 PM | ICP (84 Ludlow Street) |
| 10/26/2022 | Wednesday | 2 PM to 5 PM | ICP (84 Ludlow Street) |
| 11/02/2022 | Wednesday | 2 PM to 5 PM | ICP (84 Ludlow Street) |
| 11/09/2022 | Wednesday | 2 PM to 5 PM | ICP (84 Ludlow Street) |
| 11/16/2022 | Wednesday | 2 PM to 5 PM | ICP (84 Ludlow Street) |
| 11/30/2022 | Wednesday | 2 PM to 5 PM | ICP (84 Ludlow Street) |
| 12/07/2022 | Wednesday | 2 PM to 5 PM | ICP (84 Ludlow Street) |
| 12/14/2022 | Wednesday | 2 PM to 5 PM | ICP (84 Ludlow Street) |
| 12/21/2022 | Wednesday | 2 PM to 5 PM | ICP (84 Ludlow Street) |