City as Backdrop
Course Code: 22FCENY020
Dates: September 10-15, 2022
Meets: Sa, Su from 10:00 AM to 5:00 PM ET and Th from 6:30 PM to 8:30 PM ET
Location: In-Person and Online Zoom
Course Tuition: $480
Approaching strangers on the street can be intimidating. How do you start a conversation that can lead to a meaningful photoshoot? Students will learn to overcome their hesitations, opening dialogs so they can create portraits that tell a story and reveal a personal vision. So much can occur within a 10-minute portrait session. People's history, circumstances, relationships, sorrow and joy can be revealed within this short time. We will explore NYC neighborhoods, using doorways, walkways, flea markets and bus shelters as backgrounds that frame the personalities we'll discover. Textures, depth of field, movement and lighting will be our focus. This workshop will span over a weekend and then be followed by a remote critique session.
Course Level / Prerequisite: Intermediate: You are familiar with a camera, whether film or digital. You understand aperture, shutter speed, exposure, white balance, histograms, and how to control focus. You are comfortable editing and processing your images. You may want to learn how to utilize your camera in a more thoughtful and articulate way, or learn more about lighting or how to utilize theoretical concepts in relation to your portfolio of work.
Courses are subject to minimum enrollment. In order to comply with ICP's COVID-19 Safety Guidelines and Policies, registration for this course will close two days prior to the start date of the course.
Please be sure to read and understand ICP's COVID-19 Policies before registering for in-person courses. Students attending in-person courses will be required to complete ICP's online Daily Health Screening, sent daily by email, prior to entering the ICP school.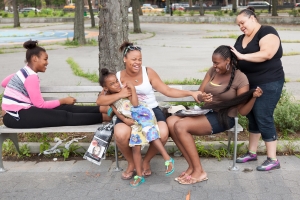 Image: Jayne Wexler, Extensions, East River Park
In-Person and Online Zoom
| Date | Day | Time | Location |
| --- | --- | --- | --- |
| 09/10/2022 | Saturday | 10 AM to 5 PM | ICP (84 Ludlow Street) |
| 09/11/2022 | Sunday | 10 AM to 5 PM | ICP (84 Ludlow Street) |
| 09/15/2022 | Thursday | 6:30 PM to 8:30 PM | Online Zoom Classroom |
Students will put 5-10 jpegs (no bigger than 2 MBs each) of their most powerful portraits into a shared google drive before the start of class.