How the Human Condition Expresses Itself
Course Code: 21MCEPV299
Dates: September 27 - November 8, 2021
Meets: M from 10:00 AM to 1:00 PM
Location: Online Zoom Classroom
Summer Tuition: $485
There are two stories to tell when photographing a subject: ours and our subject's. What are we trying to say when we make pictures? What is it that we are drawn to when we choose a subject and how do we use the language of photography to represent the essence of what's idealized through that subject? Through weekly photographic and writing assignments students work through these questions while they shoot and sequence to tell a story that reflects how the human condition expresses itself. We discuss the use of different camera equipment and lighting techniques and how those can be utilized to translate our vision. We also look to the work of contemporary photographers such as Alessandra Sanguinetti, Latoya Ruby Frazier, and Gregory Halpern, who are using photography in innovative ways. This class is designed for the photographers who are looking to begin a new project, refine an existing one or are looking for new questions to ask when approaching a subject. A Guest Speaker will join the class for one session.
Prerequisite: Intermediate: You are familiar with a camera, whether film or digital. You understand aperture, shutter speed, exposure, white balance, histograms, and how to control focus. You are comfortable editing and processing your images. You may want to learn how to utilize your camera in a more thoughtful and articulate way, or learn more about lighting or how to utilize theoretical concepts in relation to your portfolio of work.
Courses are subject to minimum enrollment. Please register early, within five days of the start-date, to reduce the likelihood of course cancellation and to ensure you receive all course-related materials in time to prepare for class.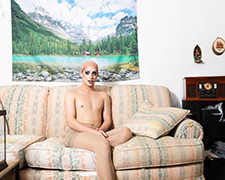 Image: Lauren Silberman, Sherry Poppins, from the series "No One Can Touch Us," 2019
Fee Breakdown
| Category | Description | Amount |
| --- | --- | --- |
| Course Fee (Basic) | Summer Tuition | $ 465.00 |
| Mandatory Fee | Material Fee | $ 20.00 |
| Date | Day | Time | Location |
| --- | --- | --- | --- |
| 09/27/2021 | Monday | 10 AM to 1 PM | Online Zoom Classroom |
| 10/04/2021 | Monday | 10 AM to 1 PM | Online Zoom Classroom |
| 10/18/2021 | Monday | 10 AM to 1 PM | Online Zoom Classroom |
| 10/25/2021 | Monday | 10 AM to 1 PM | Online Zoom Classroom |
| 11/01/2021 | Monday | 10 AM to 1 PM | Online Zoom Classroom |
| 11/08/2021 | Monday | 10 AM to 1 PM | Online Zoom Classroom |