Photographing New York: The Lower East Side
Course Code: 21MCENY112
Dates: July 14 - August 18, 2021
Meets: W from 10:00 AM to 1:00 PM ET
Location: In-Person and Online Zoom
Summer Tuition: $560
The streets and tenements of the Lower East Side, as depicted in the iconic photographs of Jacob Riis, Berenice Abbott, and Helen Levitt, have long been home to immigrants from around the world. Today, newcomers push into established ethnic enclaves, and new construction threatens the historic streetscape. In this online blended-learning class, students work in the field together and independently to document different geographical or thematic aspects of the neighborhood. This course is limited to 10 students.
Note: The class will meet in the field for three sessions, and will meet online using Zoom for in-class lecture, critiques and presentations. The instructor will provide the Zoom meeting information to the students. All camera formats welcome.
Prerequisite: Intermediate: You are familiar with a camera, whether film or digital. You understand aperture, shutter speed, exposure, white balance, histograms, and how to control focus. You are comfortable editing and processing your images. You may want to learn how to utilize your camera in a more thoughtful and articulate way, or learn more about lighting or how to utilize theoretical concepts in relation to your portfolio of work.
Courses are subject to minimum enrollment. Please register early, within five days of the start-date, to reduce the likelihood of course cancellation and to ensure you receive all course-related materials in time to prepare for class.
COVID-19 Safety Guidelines and Policies
We are working to keep you safe and healthy, but we cannot guarantee you won't be exposed to COVID-19 by visiting ICP or participating in this Continuing Education workshop. By joining this class, you assume the risk of such exposure.
Not Feeling Well? Stay Home
Please do not visit ICP if you have a fever or any COVID-19 symptoms, have tested positive for COVID-19 within the past 14 days, or have had close contact with anyone who is confirmed or is suspected of having COVID-19. New York State COVID-19 Travel Advisory requires visitors from certain states to quarantine for 14 days. If you are traveling to New York City from any these states, visitors are required to complete the online Travel Health Form.
Wear a Mask
ICP faculty, volunteers and students are required to wear a mask or face covering at all times. Those who do not comply will be asked to leave.
Maintain Social Distance
We hope you enjoy this class, but please stay at least 6 ft. (about two arm lengths) away from others.
Follow Directions
Please adhere to any verbal communications given by ICP faculty or volunteers.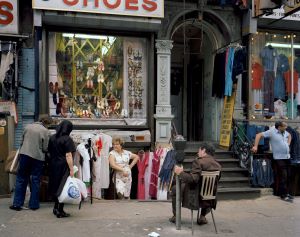 Image: Brian Rose
In-Person and Online Zoom
| Date | Day | Time | Location |
| --- | --- | --- | --- |
| 07/14/2021 | Wednesday | 10 AM to 1 PM | In-Person and Online Zoom |
| 07/21/2021 | Wednesday | 10 AM to 1 PM | In-Person and Online Zoom |
| 07/28/2021 | Wednesday | 10 AM to 1 PM | In-Person and Online Zoom |
| 08/04/2021 | Wednesday | 10 AM to 1 PM | In-Person and Online Zoom |
| 08/11/2021 | Wednesday | 10 AM to 1 PM | In-Person and Online Zoom |
| 08/18/2021 | Wednesday | 10 AM to 1 PM | In-Person and Online Zoom |