The Memorial Landscape
Course Code: 21MCELA009
Dates: July 12 - August 2, 2021
Meets: M from 2:00 PM to 5:00 PM ET
Location: Online Zoom Classroom
Summer Tuition: $445
Throughout our communities there are memorials that commemorate events, celebrate individuals, and contribute to the often complex process of preserving history. These objects, whether formal commissions or spontaneous expressions, occupy our public spaces, and as such define and shape our shared landscape. In this class we will explore our cities through an examination of the memorial landscape, and we will look at the work of photographers like Lee Friedlander, An-My Lê, Dawoud Bey and Joel Sternfeld who have in different ways approached the subject of landscape and memory. This course is limited to 10 students.
Prerequisite: Open to All Skill Levels: Students ranging from beginner to experienced will be successful in classes.
Courses are subject to minimum enrollment. Please register early, within five days of the start-date, to reduce the likelihood of course cancellation and to ensure you receive all course-related materials in time to prepare for class.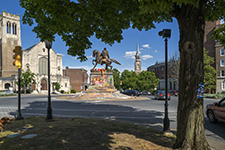 Image: Brian Rose, Richmond
| Date | Day | Time | Location |
| --- | --- | --- | --- |
| 07/12/2021 | Monday | 2 PM to 5 PM | Online Zoom Classroom |
| 07/19/2021 | Monday | 2 PM to 5 PM | Online Zoom Classroom |
| 07/26/2021 | Monday | 2 PM to 5 PM | Online Zoom Classroom |
| 08/02/2021 | Monday | 2 PM to 5 PM | Online Zoom Classroom |