Reimagining Captions: Poetic Approaches to Photography
Course Code: 21MCEPV189
Dates: September 9-30, 2021
Meets: Th from 6:00 PM to 8:00 PM ET
Location: Online Zoom Classroom
Summer Tuition: $355
Captions often contextualize images in history or memory after their production, and are usually treated as secondary to the photograph. In this course, we explore how the caption can instead function as a poetic prompt for imagemaking. Texts and works relating to vernacular photography and conceptual fine art projects inform the course. During each class, taught over Zoom, participants will respond to shooting and writing exercises designed for home-bound making. All will leave with a body of work around the concept of the caption that could be expanded using learned methods.
Prerequisite: Intermediate: You are familiar with a camera, whether its film or digital. You have an understanding of aperture, shutter speed, white balance, and are comfortable editing and processing your images. You may want to learn how to utilize your camera in a more thoughtful and articulate way, or learn more about lighting, or theoretical concepts in relation to your portfolio of work.
Note: For weekly assignments, any camera students are comfortable with is fine, as long as they are able to consistently produce work in advance of each class. For in-class exercises, access to digital means (DSLR/Mirrorless or smartphone) will be necessary.
Courses are subject to minimum enrollment. Please register early, within five days of the start-date, to reduce the likelihood of course cancellation and to ensure you receive all course-related materials in time to prepare for class.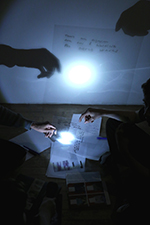 Image: Captions from and towards Correspondence, January 24, 2019, Performance Workshop by Katie Giritlian. Photo by Jana Dyk. This work was part of "Rethinking Femisim," organized by Mira Dayal.
| Date | Day | Time | Location |
| --- | --- | --- | --- |
| 09/09/2021 | Thursday | 6 PM to 8 PM | Online Zoom Classroom |
| 09/16/2021 | Thursday | 6 PM to 8 PM | Online Zoom Classroom |
| 09/23/2021 | Thursday | 6 PM to 8 PM | Online Zoom Classroom |
| 09/30/2021 | Thursday | 6 PM to 8 PM | Online Zoom Classroom |
The week before class begins, the instructors will share recommended reading and request that students share 3-5 words or phrases that they associate with captions.