The Art of Walking
Course Code: 22MCEPV00041
Dates: July 23, 2022
Meets: Sa from 10:00 AM to 5:00 PM ET
Location: ICP (84 Ludlow Street)
Course Tuition: $280
This workshop takes the idea of the German Wanderlust and Baudelaire's concept of the flaneur to the streets of Lower Manhattan. The class discusses the cultural history, theory, and methodologies of walking, and uses this form of research to slow down and become aware of the body as a multi-sensory vehicle for discovering images, stories, and materials. Students sharpen their perceptual and critical observation while exploring the historical layers of the city, mapping hidden spaces, and linking cultural geographies of the neighborhood with their own memories and subjectivity. Students use photography as a form of navigation, giving shape to urban spaces, narrating their personal stories, or creating a fictional world that is layered over real places.
Course Level / Prerequisite: Open to all skill levels. Students ranging from beginner to experienced will be successful in classes that are Open to All Skill Levels.
Courses are subject to minimum enrollment. In order to comply with ICP's COVID-19 Safety Guidelines and Policies, registration for this course will close two days prior to the start date of the course.
Please be sure to read and understand ICP's COVID-19 Policies before registering for in-person courses. Students attending in-person courses will be required to complete ICP's online Daily Health Screening, sent daily by email, prior to entering the ICP school.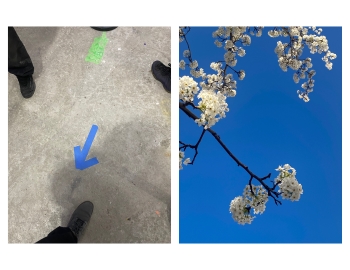 Image: Claudia Sohrens, Art of Walking #03, Art of Walking, 2022
Students should bring a journal to take notes about observations, memories, stories etc, as well as sensual experiences during the walking.