Cyanotype Workshop
Course Code: 22SCEAP103
Dates: June 25-26, 2022
Meets: Sa and Su from 10:00 AM to 5:00 PM ET
Location: ICP (84 Ludlow Street)
Spring Tuition: $495
Sorry, we are no longer accepting registrations for this course. Please contact our office to find out if it will be rescheduled, or if alternative classes are available.
Invented in 1842 by astronomer and chemist John Herschel, the cyanotype is an inherently poetic "blue impression" made by exposing iron salts to light. During this two-day workshop, participants will learn how to turn their images into cyanotypes with smooth gradations, subtle details, and a full tonal range of Prussian blues. Participants will learn how to mix and apply chemistry to paper, expose it to light in contact with their digital and/or analog negatives, and process the print to gain creative agency with cyanotype. Each participant will print a personal selection of digital negatives calibrated for this process, and print cyanotypes from their digital negatives. Various papers, toning methods, and guidance on setting up a home cyanotype workspace will be covered. This workshop is for both beginner and experienced cyanotypists seeking conceptual and technical feedback.
Course Level / Prerequisite: Intermediate: You are familiar with a camera, whether film or digital. You understand aperture, shutter speed, exposure, white balance, histograms, and how to control focus. You are comfortable editing and processing your images. You may want to learn how to utilize your camera in a more thoughtful and articulate way, or learn more about lighting or how to utilize theoretical concepts in relation to your portfolio of work.
In accordance with ICP's COVID-19 Safety Guidelines and Policies, all Continuing Education students are required to be fully vaccinated and to have received the most recently available booster shots in order to attend onsite courses. This includes courses taking place at the ICP School location (79 Essex Street - entrance at 84 Ludlow Street) as well as offsite locations. Students will be required to provide proof of their vaccination status during the registration process, unless an exemption has been granted. ICP requires masks to be worn while in class, and while in other public areas of ICP, to protect the health and safety of all employees, students, and visitors. We encourage students, faculty, and staff to wear a KN95 and/or KF94 mask at ICP.
Courses are subject to minimum enrollment. In order to comply with ICP's COVID-19 Safety Guidelines and Policies, registration for this course will close two days prior to the start date of the course.
Students attending in-person courses will be required to complete ICP's online Daily Health Screening prior to entering the ICP school.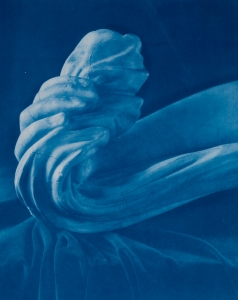 Image: Christine Elfman, Fragment IV, cyanotype, 14.5x11.5 inches, image courtesy of the artist and Euqinom Gallery
Fee Breakdown
| Category | Description | Amount |
| --- | --- | --- |
| Course Fee (Basic) | Spring Tuition | $ 465.00 |
| Mandatory Fee | Material Fee | $ 30.00 |
| Date | Day | Time | Location |
| --- | --- | --- | --- |
| 06/25/2022 | Saturday | 10 AM to 5 PM | ICP (84 Ludlow Street) |
| 06/26/2022 | Sunday | 10 AM to 5 PM | ICP (84 Ludlow Street) |
Bring at least 10 digital files to output as digital negatives for the cyanotype process on an external hard drive or USB flash drive. We will begin by printing 8x10 inches, and you will be able to print up to 16x20 inches during the workshop. File specifications: Raw or Tiff is ideal (jpeg fine); 16 bit; 360 ppi, 16x20 inches maximum output dimensions. Bring raw images or highest resolution images you have to work from. We will make a selection from these images that are well suited for the cyanotype process, edit them and output them as digital negatives on Epson printers at ICP. If you would like to print cyanotypes from your analog negatives, bring medium or large format black and white negatives for contact printing. You're also welcome to bring thin objects such as pressed plants to make cyanotype photograms.