A Sunday in the East Village
Course Code: 21MCENY017
Dates: September 26, 2021
Meets: Su from 10:00 AM to 5:00 PM
Location: In-Person (Walking Class)
Summer Tuition: $305
Sorry, we are no longer accepting registrations for this course. Please contact our office to find out if it will be rescheduled, or if alternative classes are available.
The East Village and Lower East Side are among the most historically and visually dynamic neighborhoods in New York City. We spend the day discussing the history of these areas and the many photographers who have worked in these communities, including Jacob Riis, Weegee, and Helen Levitt. We photograph elements unique to the area, such as the 19th- and early 20th-century architecture, modern-day graffiti, community gardens, storefronts, and parks. Students have lunch on their own, and we end the day near Tompkins Square Park. This course is limited to 8 students.
Note: All camera formats welcome. Students will be carrying their equipment throughout the day.
Prerequisite: Open to All Skill Levels: Students ranging from beginner to experienced will be successful in classes.
Courses are subject to minimum enrollment. Please register early, within five days of the start-date, to reduce the likelihood of course cancellation and to ensure you receive all course-related materials in time to prepare for class.
COVID-19 Safety Guidelines and Policies
We are working to keep you safe and healthy, but we cannot guarantee you won't be exposed to COVID-19 by visiting ICP or participating in this Continuing Education workshop. By joining this class, you assume the risk of such exposure.
Not Feeling Well? Stay Home
Please do not visit ICP if you have a fever or any COVID-19 symptoms, have tested positive for COVID-19 within the past 14 days, or have had close contact with anyone who is confirmed or is suspected of having COVID-19. New York State COVID-19 Travel Advisory requires visitors from certain states to quarantine for 14 days. If you are traveling to New York City from any these states, visitors are required to complete the online Travel Health Form.
Wear a Mask
ICP faculty, volunteers and students are required to wear a mask or face covering at all times. Those who do not comply will be asked to leave.
Maintain Social Distance
We hope you enjoy this class, but please stay at least 6 ft. (about two arm lengths) away from others.
Follow Directions
Please adhere to any verbal communications given by ICP faculty or volunteers.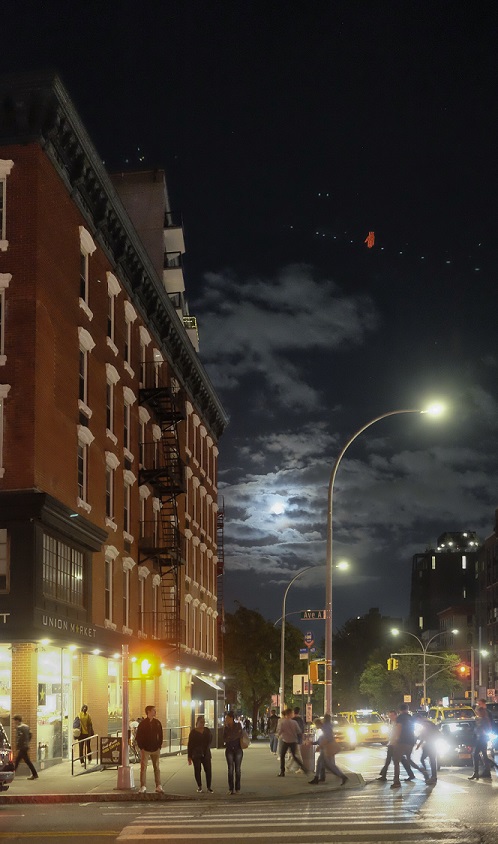 Image: Jade Doskow
In-Person (Walking Class)
Please wear comfortable walking shoes and bring any camera equipment that you are comfortable with and that is not too heavy (iPhones and camera phones welcome). The instructor will email the class before class to confirm the meeting place.