Mining the Subconscious
Course Code: 21FILP010
Dates: October 19 - November 9, 2021
Meets: Tu from 6:00 PM to 9:00 PM ET
Location: Online Zoom Classroom
Fall Tuition: $880
This workshop explores how subconscious thought can be used to sequence and develop new work. In four live Zoom meetings, the class will learn about the role of the subconscious in art and critique each other's ongoing bodies of work. Throughout the week, students will explore surrealism and automatic thinking and engage with their classmates and teacher using Atget Studio* for discussions outside of class time (expect to spend 2-3 hours/week outside of class). Exercises such as automatic writing, involuntary sculpture, meditation, indecipherable writing, as well as assigned readings and more will provoke our subconscious and inspire.
Additionally, students will have the opportunity to meet 1:1 with their teacher on Saturdays from 12:00-3:00pm ET on 10/23, 10/30 & 11/6. Signup with your teacher during your live Zoom meetings.
Course Level / Prerequisite: Intermediate: You are familiar with a camera, whether film or digital. You understand aperture, shutter speed, exposure, white balance, histograms, and how to control focus. You are comfortable editing and processing your images. You may want to learn how to utilize your camera in a more thoughtful and articulate way, or learn more about lighting or how to utilize theoretical concepts in relation to your portfolio of work.
*Students must participate in an one hour Atget Studio training via Zoom prior to the start of class. See 'Class Preparation' for dates to attend.
Courses are subject to minimum enrollment. Please register early, within five days of the start-date, to reduce the likelihood of course cancellation and to ensure you receive all course-related materials in time to prepare for class.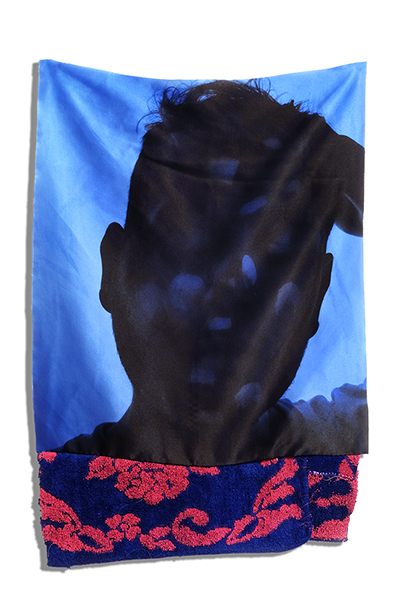 Image: Bryan Martell, Boy Blue, Inkjet print on silk with found material, 2019
| Date | Day | Time | Location |
| --- | --- | --- | --- |
| 10/19/2021 | Tuesday | 6 PM to 9 PM | Online Zoom Classroom |
| 10/26/2021 | Tuesday | 6 PM to 9 PM | Online Zoom Classroom |
| 11/02/2021 | Tuesday | 6 PM to 9 PM | Online Zoom Classroom |
| 11/09/2021 | Tuesday | 6 PM to 9 PM | Online Zoom Classroom |
Upload 4-10 images to your Atget wall that are representative of a project you'd like to work on for the semester, or if you're planning on creating new work for this course then please upload some images that you are most proud of. You will receive an invite to join Atget Studio by email prior to the start of the first class. Please complete your registration before class. Students must participate in an hour long Atget Studio training via Zoom on one of the following dates prior to the start of class:
October 8th,13 or 15th from 10-11am ET
or
October 12th, 14th or 18th from 5-6pm ET