Approaching a Photobook: Sorting Your Work to Build a Concept (Online)
Course Code: 23MCEBP201V
Dates: July 12 - August 9, 2023
Meets: W from 1:00 PM to 4:00 PM ET
Location: Online Zoom Classroom
Course Tuition: $500
Decontextualizing pictures from their origin or chronology and looking beyond the portfolio is key to another way of seeing. Yet considering big ideas or smaller concepts to bring together years of work or even a few sessions can be daunting. This course guides you through first steps in the process, allowing you to sort your work from a different POV. The instructor introduces a new way to examine your work in order to present a more stylistic and/or intellectual approach. Through reflection and unguarded conversations, this class helps to unlock your thinking as you begin a structure for a book. This course is limited to 12 students.
Note: This class is open to anyone interested in making a photobook who has experience using Lightroom Classic or Photo Mechanic to sort their images into folders. iPhone users must have moved their images into LRC before the first class.
Course Level / Prerequisite: Intermediate Lightroom: You are familiar with Lightroom. You understand the fundamentals of image input and output. You may be interested in developing experience with image adjustments and workflow.
Courses are subject to minimum enrollment. Please register early, within five days of the start-date, to reduce the likelihood of course cancellation and to ensure you receive all course-related materials in time to prepare for class.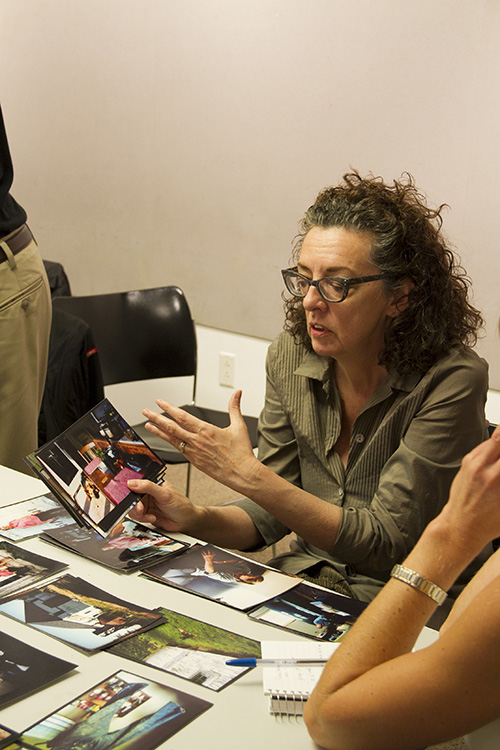 Image: Alison Morley
| Date | Day | Time | Location |
| --- | --- | --- | --- |
| 07/12/2023 | Wednesday | 1 PM to 4 PM | Online Zoom Classroom |
| 07/19/2023 | Wednesday | 1 PM to 4 PM | Online Zoom Classroom |
| 07/26/2023 | Wednesday | 1 PM to 4 PM | Online Zoom Classroom |
| 08/02/2023 | Wednesday | 1 PM to 4 PM | Online Zoom Classroom |
| 08/09/2023 | Wednesday | 1 PM to 4 PM | Online Zoom Classroom |
In this course, we will learn to sort instinctually. This will help you see what you really have. To prepare for the first class session, please try to sort all the images under consideration into subfolders. Sort by surface of image - it's a mailbox, landscape, people, details, a room, portraits, action, movement, color, light - whatever stands out the most at first glance - not what the image means to you, but what it simply looks like to a random viewer. Forget chronology and locations - unless that is the essence of your project idea. If you can't decide on which image at the same location is best, then you can include 5-8 choices. If you have different bodies of work, then do this sorting for each genre of work. We will look at each subfolder, and further sort all your images into them (named whatever: Mary, Paul, horses, flowers, windows, mirrors, gates etc) to help you formulate a project idea that best suits you. The earlier you get started, the better prepared you will be for this course! We will look at 10 images per student during the first class.Looking forward to your participation. This class can lead you into the course, "STORYTELLING: Selecting, Sorting and Sequencing Your Pictures for a Book."