Adventures in Image Transfers
Course Code: 23MCEAP203I
Dates: July 8-9, 2023
Meets: Sa and Su from 10:00 AM to 5:00 PM ET
Location: ICP (84 Ludlow Street)
Course Tuition: $575
When Polaroid's Image Transfer and Emulsion lift processes hit the scene, photographers hit the ground running searching for unique hand made photos. Migrating images from one surface to another has been both rewarding and frustrating. This workshop focuses on techniques that work every time. During the weekend students work on preparing digital images, printing to transparency film and transferring to a variety of substrates such as metal, wood, and various papers. All of the techniques can be prepared to mimic authentic alternative processes such as cyanotype, emulsion lifts, palladium, or utilize modern imagery to create one-of-a-kind works of art.
Course Level / Prerequisite: Intermediate: You are familiar with a camera, whether film or digital. You understand aperture, shutter speed, exposure, white balance, histograms, and how to control focus. You are comfortable editing and processing your images. You may want to learn how to utilize your camera in a more thoughtful and articulate way, or learn more about lighting or how to utilize theoretical concepts in relation to your portfolio of work.
Students are encouraged to review ICP's Classroom Disclaimer for current information regarding COVID-19 policies, classroom guidelines, and more. These policies are subject to change at anytime.
Courses are subject to minimum enrollment. Please register early, within five days of the start-date, to reduce the likelihood of course cancellation and to ensure you receive all course-related materials in time to prepare for class. Registration for this course will close one day prior to the start date of the course.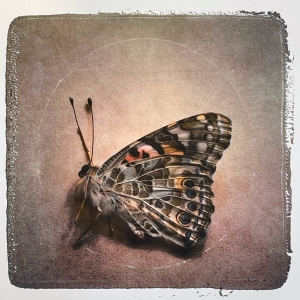 Image: Sandra Carrion, Butterfly, 2019
Fee Breakdown
| Category | Description | Amount |
| --- | --- | --- |
| Course Fee (Basic) | Course Tuition | $ 475.00 |
| Mandatory Fee | Material Fee | $ 100.00 |
| Date | Day | Time | Location |
| --- | --- | --- | --- |
| 07/08/2023 | Saturday | 10 AM to 5 PM | ICP (84 Ludlow Street) |
| 07/09/2023 | Sunday | 10 AM to 5 PM | ICP (84 Ludlow Street) |
Please prepare 12-15 jpeg files you are interested in working with. Any subject will work. Files may be color or black & white. Instructions for preparing images will be given in Photoshop, so bringing a laptop with Adobe Photoshop is useful. Images may be generated from digital cameras, smart phones, or scans. A list of other materials will be sent by the instructor a few days before the start-date.