All Work All Play (Online)
Course Code: 23FCEPV215V
Dates: October 18 - November 15, 2023
Meets: W from 6:00 PM to 9:00 PM ET
Location: Online Zoom Classroom
Course Tuition: $455
This course is designed for those looking to shake up their work and fold new energy and discovery into their practice. It is a chance to reconnect to the initial love that brought us all to photography, to consider a new way of seeing, and to learn more deeply about yourself as an image maker. We will look at examples of extraordinary projects that approach picture making like an experiment, whether in the use of the camera or the choice of subject matter. Through shooting prompts and exercises we will stir up new ideas and techniques that will in turn expand our visual vocabulary. Group critiques will help identify interesting directions for each student to follow as seeds are planted for future work. Every three-hour class will have one hour of lecture and two hours of critique.
Course Level / Prerequisite: Intermediate: You are familiar with a camera, whether film or digital. You understand aperture, shutter speed, exposure, white balance, histograms, and how to control focus. You are comfortable editing and processing your images. You may want to learn how to utilize your camera in a more thoughtful and articulate way, or learn more about lighting or how to utilize theoretical concepts in relation to your portfolio of work.
Courses are subject to minimum enrollment. Please register early, within five days of the start-date, to reduce the likelihood of course cancellation and to ensure you receive all course-related materials in time to prepare for class.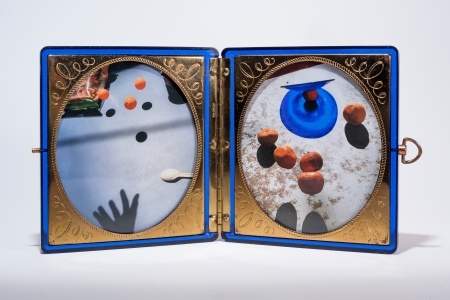 Image: Irina Rozosky
Fee Breakdown
| Category | Description | Amount |
| --- | --- | --- |
| Course Fee (Basic) | Course Tuition | $ 435.00 |
| Mandatory Fee | Material Fee | $ 20.00 |
| Date | Day | Time | Location |
| --- | --- | --- | --- |
| 10/18/2023 | Wednesday | 6 PM to 9 PM | Online Zoom Classroom |
| 10/25/2023 | Wednesday | 6 PM to 9 PM | Online Zoom Classroom |
| 11/01/2023 | Wednesday | 6 PM to 9 PM | Online Zoom Classroom |
| 11/08/2023 | Wednesday | 6 PM to 9 PM | Online Zoom Classroom |
| 11/15/2023 | Wednesday | 6 PM to 9 PM | Online Zoom Classroom |