The Fundamentals of Studio Lighting
Course Code: 22MCELI201
Dates: July 11-15, 2022
Meets: M, Tu, W, Th and F from 10:00 AM to 5:00 PM ET
Location: ICP (84 Ludlow Street)
Course Tuition: $875
Sorry, we are no longer accepting registrations for this course. Please contact our office to find out if it will be rescheduled, or if alternative classes are available.
Note: This class is offered in partnership with Pace University and is open for enrollment for Pace University Undergraduate students.
This course focuses on practical applications for portraiture. In-class demonstrations cover the unique properties and use of strobe equipment and continuous light sources, such as tungsten and LED lighting, as well as diffusers, specialized reflectors, focusing elements, and light shapers. Students learn to consider the direction of light, proper exposure, and lighting's effect on contrast and color balance. We also examine the properties of various lighting conditions and color temperature, including mixing daylight with artificial lighting.
Course Level / Prerequisite: Intermediate: You are familiar with a camera, whether film or digital. You understand aperture, shutter speed, exposure, white balance, histograms, and how to control focus. You are comfortable editing and processing your images. You may want to learn how to utilize your camera in a more thoughtful and articulate way, or learn more about lighting or how to utilize theoretical concepts in relation to your portfolio of work.
In accordance with ICP's COVID-19 Safety Guidelines and Policies, all Continuing Education students are required to be fully vaccinated in order to attend onsite courses. This includes courses taking place at the ICP School location (79 Essex Street - entrance at 84 Ludlow Street) as well as offsite locations. Students will be required to provide proof of their vaccination status during the registration process, unless an exemption has been granted. Masks are strongly recommended, but not required in class and in other public areas of ICP to protect the health and safety of all employees, students and visitors. These policies are subject to change at anytime.
Please register early, within five days of the start-date, to ensure you receive all course-related materials in time to prepare for class. In order to comply with ICP's COVID-19 Safety Guidelines and Policies, registration for this course will close two days prior to the start date of the course.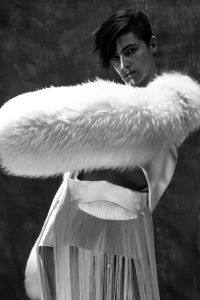 Image: Alice O'Malley
Save $200.00 with a Lighting Foundations Intensive
Fee Breakdown
| Category | Description | Amount |
| --- | --- | --- |
| Course Fee (Basic) | Course Tuition | $ 805.00 |
| Mandatory Fee | Material Fee | $ 70.00 |
| Date | Day | Time | Location |
| --- | --- | --- | --- |
| 07/11/2022 | Monday | 10 AM to 5 PM | ICP (84 Ludlow Street) |
| 07/12/2022 | Tuesday | 10 AM to 5 PM | ICP (84 Ludlow Street) |
| 07/13/2022 | Wednesday | 10 AM to 5 PM | ICP (84 Ludlow Street) |
| 07/14/2022 | Thursday | 10 AM to 5 PM | ICP (84 Ludlow Street) |
| 07/15/2022 | Friday | 10 AM to 5 PM | ICP (84 Ludlow Street) |
For the first day of class please bring 3 to 5 images from your portfolio or samples of your own work. These can be presented digitally or as prints. Please also bring 1-2 images by other photographers which you find puzzling, inspiring, or mysterious including some with lighting which excites and intrigues you or that you would like to learn to create.