The Form of Things
Course Code: 21SCELA212
Dates: June 3 - July 8, 2021
Meets: Th from 6:00 PM to 8:00 PM EST
Location: Online Zoom Classroom
Spring Tuition: $445
Architecture and photography have key aspects in common which includes the core tenets of light, space, and time. In this critique and lecture-based online class, students create a lens-based project based on concepts rooted in the built environment. Lectures and photographic assignments address artists and photographers whose practice is often based upon architecture and environment, this includes but is not limited to: Hiroshi Sugimoto, John Chiara, Richard Pare, Sally Mann, and An My Le. We examine conceptual frameworks for making provocative work and discuss how photography can show the impact of human development upon our planet and how a specific representation of the built environment can encapsulate who we are at a specific moment in time. Christoper Payne joins the class as a guest speaker and to share his experiences in the field. This course is limited to 12 students.
Prerequisite: Advanced: You are comfortable with your camera, whether film or digital, and with your photographic practice. You have already produced or are working on a body of work. You are proficient in Adobe applications such as Photoshop, Lightroom, Premiere, et cetera. You understand printing or portfolio revision processes. You may be seeking ways to strengthen your work through sequencing, theoretical readings, and group critiques.
Note: It is recommended that students have Adobe Photoshop and Lightroom for this course.
Courses are subject to minimum enrollment. Please register early, within five days of the start-date, to reduce the likelihood of course cancellation and to ensure you receive all course-related materials in time to prepare for class.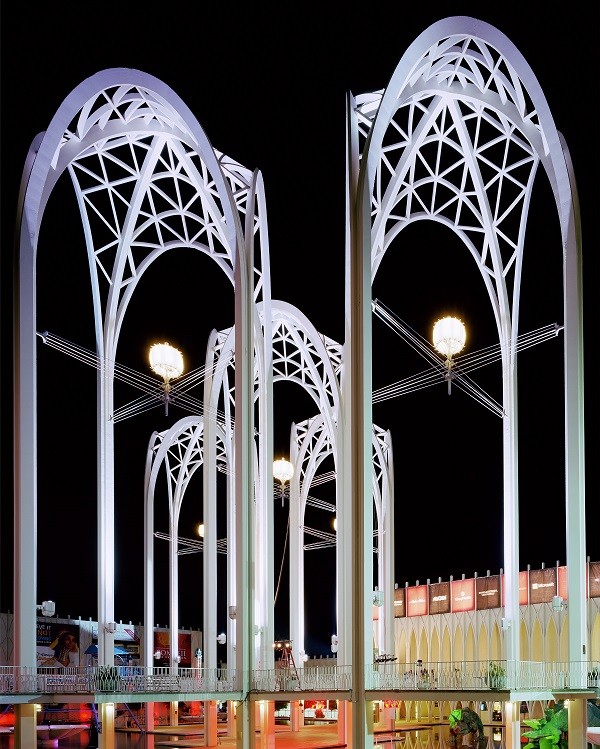 Image: Jade Doskow, Seattle Arches at Night
Fee Breakdown
| Category | Description | Amount |
| --- | --- | --- |
| Course Fee (Basic) | Spring Tuition | $ 425.00 |
| Mandatory Fee | Material Fee | $ 20.00 |
| Date | Day | Time | Location |
| --- | --- | --- | --- |
| 06/03/2021 | Thursday | 6 PM to 8 PM | Online Zoom Classroom |
| 06/10/2021 | Thursday | 6 PM to 8 PM | Online Zoom Classroom |
| 06/17/2021 | Thursday | 6 PM to 8 PM | Online Zoom Classroom |
| 06/24/2021 | Thursday | 6 PM to 8 PM | Online Zoom Classroom |
| 07/01/2021 | Thursday | 6 PM to 8 PM | Online Zoom Classroom |
| 07/08/2021 | Thursday | 6 PM to 8 PM | Online Zoom Classroom |