On the Street: Approaching Strangers
Course Code: 21FCEPJ006
Dates: October 30-31, 2021
Meets: Sa and Su from 10:00 AM to 5:00 PM ET
Location: ICP (84 Ludlow Street)
Fall Tuition: $465
Sorry, we are no longer accepting registrations for this course. Please contact our office to find out if it will be rescheduled, or if alternative classes are available.
Why live in a city of 8 million people, if you aren't going to talk to any of them? In this intensive yet fun workshop, students take to the streets, to directly confront their fear of approaching strangers. Participants in this class learn how to get the picture they want efficiently by communicating their desires. We explore all aspects of photographing people, including fears and boundaries, model consent forms, and historical context. All photographic formats are welcome.
Course Level / Prerequisite: Open to all skill levels. Students ranging from beginner to experienced will be successful in classes that are Open to All Skill Levels.
In accordance with ICP's COVID-19 Safety Guidelines and Policies, all Continuing Education students are required to be fully vaccinated in order to attend in-person courses. This includes courses taking place at the ICP School location (79 Essex Street) as well as offsite locations. Students will be required to provide proof of their vaccination status during the registration process, unless an exemption has been granted. ICP strongly recommends that masks are worn while in class, and requires masks to be worn while in other public areas of ICP, to protect the health and safety of all employees, students, and visitors. For your safety, hand sanitizer is available throughout the school.
Courses are subject to minimum enrollment. In order to comply with ICP's COVID-19 Safety Guidelines and Policies, registration for this course will close three days prior to the start date of the course.
Students attending in-person courses will be required to complete ICP's online Daily Health Screening prior to entering the ICP school.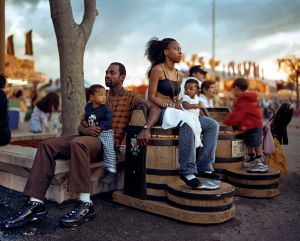 image: Greg Miller
| Date | Day | Time | Location |
| --- | --- | --- | --- |
| 10/30/2021 | Saturday | 10 AM to 5 PM | ICP (84 Ludlow Street) |
| 10/31/2021 | Sunday | 10 AM to 5 PM | ICP (84 Ludlow Street) |
I suggest the following to get the most out of your workshop: — A notebook to take notes — A selection of previous work that you feel represents you. (10 pictures in digital form. 1000 pixels on the long side @ 72dpi). This is just so I have an idea of where you are coming from photographically. — A camera of your choice. Anything from an iPhone, DSLR, a Rolleiflex to a 4x5 camera. — A Tripod (Optional) — Memory card for your camera — Laptop (Optional) for digital shooters to process their images. I encourage you to shoot with whatever camera you wish to use after the workshop so that I can help you in the long run. The class is more about the experience than it is about the pictures. Although we will go over both on the street as well as with in-class critiques. If you wish to shoot film, you may want to consider that it is a weekend workshop and you will not be able to have your rolls processed for the second day of class, though you are more than welcome to shoot film for your own personal enjoyment. Digital we will be able to view right away, of course. For questions about what the school has available in terms of equipment and facilities, it is best to contact the Education Dept.